Our seasonal news updates summarise the latest childcare news plus which MindingKids resources have been added or revised so you can easily keep on track and up to date.
As summer comes to an end we hope that you have all enjoyed a bit of a break and managed to fit in some sunshine amongst the heavy showers!
Hello and Welcome to all our new visitors, and a BIG THANK YOU to those who have recently purchased resources or signed up for Gold or Platinum Membership. We hope MindingKids is helping with the amazing work that you do.
So what is in the childcare news?…
Concern about Portion Sizes
According to a recent analysis of data collected from the Infant & Toddler Forum's online food tracker, almost half of meals served to one to four year olds are outside of the recommended portion size range. Results from the free food tracker app show that foods high in fat or sugar are being overserved whilst portions of fruit and vegetables are often below the recommended amount. Created as a support tool for parents, the app is designed to evaluate children's diets then provide tips and recommendations on portion size, healthy meal ideas and physical activities in order to maintain a healthy balance. Guidance provided from the app now coincides with the recently updated British Nutrition Foundation's 5532 guidance which was published in July. In order to monitor and track trends in children's nutrition, the ITF plan to release data every 6 months. Find out more in this Nursery World article.
Are you confident that you provide or support parents in providing healthy, balanced diets in your setting?
Find the British Nutrition Foundation's updated 5532 guidance here.
Setting the Table – nutritional guidance and food standards for early years childcare providers in Scotland here.
And Nutrition matters for the early years: Guidance for feeding under fives in the childcare setting (England) here.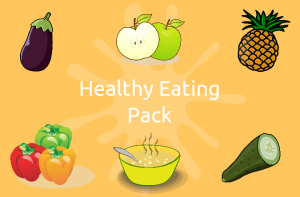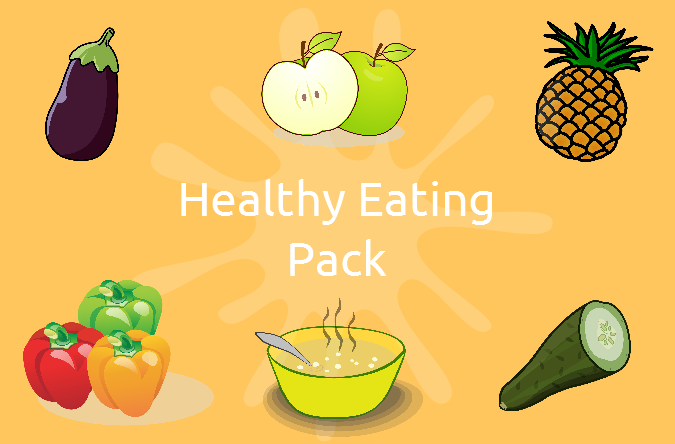 Our Healthy Eating Pack is also packed with lots of resources to assist with healthy food provision in your setting.
Enough to drink?
Following on from concern over food portion size we must also consider whether children are getting enough to drink. Evidence shows that hydration levels can have a significant impact on how we feel, think and function so ensuring children get enough to drink is vitally important to support both their wellbeing and ability to learn.
The Natural Hydration Council has published a new factsheet about the importance of hydration in the early years and in Scotland a new children's hydration campaign – Think2DrinkH20 has been launched by the Scottish Urinary Tract Infection Network.
As busy childcare providers we must also ensure that we (and any staff or assistants we employ) also get enough to drink during the day. What can you do in your setting to ensure fresh drinking water is accessible to everyone?
Find the Natural Hydration Council fact sheet here
And find information and FREE resources for the Think2DrinkH20 campaign here.
In the North (Care Inspectorate)….
New 'Understanding Wellbeing' Resource 
A new resource for teachers and practitioners working with children and young people has been launched. Produced by Children In Scotland and supported by the Scottish Government 'Improving Children and Young People's Understanding of their Wellbeing' is a free online hub of information and practical resources that complement existing resources and approaches including Getting it Right for Every Child (GIRFEC), the Curriculum for Excellence and the United Nations Convention on the Rights of the Child (UNCRC). It's aim is to support children and young people's understanding of their wellbeing through fun, creative, age-appropriate activity ideas that link to the wellbeing indicators.
Find the new 'Improving Children and Young People's Understanding of their Wellbeing' resource here.
My Active World
The Care Inspectorate are again looking for the involvement of childminders to help put together a new resource. It is hoped that 'My Active World' will compliment other early years resources such as Space to Grow, Our Creative Journey and My World Outdoors, this time providing motivation and inspiration that will help children to be active both indoors and outdoors and support positive relationships with physical activity.  If you have any examples that you would like to share you can get in touch with the Care Inspectorate at myactiveworld@careinspectorate.gov.scot
Read more about the upcoming My Active World resource here.
Parent Club Website
The Scottish Government's Parent Club website has been updated with lots of new information to assist parents in understanding the benefits of early learning and childcare and what options are available to them. With the expansion of funded childcare due to be introduced from August 2020, the new ELC pages aim to provide a one-stop-shop of information that will assist parents in navigating their way around what options they have and understand clearly their entitlement to funded care. An excellent resource to refer parents to if they are a little confused about their options!
With lots of other useful information and tips about, health, food, play, development and behaviour, you will find lots of inspiration for childcare providers too!
Visit the Parent Club here.
Funded ELC requirements
The Scottish Government's roll out of 1140-hour funded Early Learning and Childcare entitlement is now less than a year away. If you are looking to apply to become a funded provider of ELC then you will need to know and understand the requirements set by your local authority.
Remember that providing funded provision will be optional. You will need to consider the pros and cons to your own business and personal circumstances. Can you compete with other providers and childcare settings in your area who will be delivering the funded entitlement? Do you have the time to undergo any additional training in order to meet the requirements? Take time to think about your options and contact your local authority to find out what help is available to you.
MindingKids is currently putting together a handy list to assist with any additional policies or paperwork that your setting may require to meet funded provider requirements. Watch this space!
In the South (Ofsted)….
New Early Years Inspection Handbook
The Ofsted Early Years Inspection handbook has been released and will be used from the beginning of next month. The handbook explains what Ofsted do before, during and after inspection so having a good read through will help to ensure you have better understanding of the inspection process and allow you to be better prepared.
You can find and download the Early years inspection handbook for Ofsted registered provision here.
Ofsted has also updated their Inspecting Safeguarding in Early Years Guidance which should be read alongside the new inspection handbook.
To further help you prepare for inspection take a look at our Preparing for Inspection Hot Topic.
And check that you are doing all you can to keep children safe with our Safeguarding & Child Protection Hot Topic.
Ofsted Registration Guidance Updated
Ofsted have updated their registration guidance for childminders and other childcare providers with an aim to make it clearer and mobile friendly. The guidance includes information about when/if you need to register with Ofsted and the process, fees and requirements. You will also find information about what action may be taken if providers are found not to be following regulations and also how you can keep your details up to date or make changes to your registration if required.
Find the updated guidance here.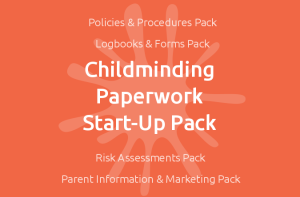 If you are new to childminding or looking to register, our Start Up Steps will help you on your way and our Childminding Paperwork Start-Up Pack will help to equip you with all the essentials.
Revised EYFS
The department for education has confirmed its timetable for the revised Early Years Foundation Stage, due to be implemented in early years settings from September 2021. A pilot of the revised framework was carried out in a small sample of 25 schools over the last school year with an evaluation due to be published this Autumn. The majority of changes are around the Early Learning Goals used by teachers in reception level with an aim to refine and modernise them, whilst also reducing the burden of excessive evidence gathering and freeing up more time for engaging lessons that will better support children's learning. Schools will be able to introduce the new ELGs from September 2020, a year before Early Years Settings.
You can read more about the proposed changes in this Nursery World article.
The non-statutory Development Matters guidance is also being updated in preparation for the revised EYFS and is due to be published early next year.
MindingKids is of course watching with interest in order to produce and update resources ready for the change.
Review of Ofsted fees
The Department for Education are currently running a consultation with an aim to increase Ofsted fees for early years providers from next year. The proposals include increasing the application fee in addition to the annual fee paid to Ofsted by Early Years Register providers. Should the changes go ahead, the annual fee for childminders will increase by £8 to £43 from April 2020.
Although this would be the first increase in fees for a number of years, it is likely to be met with frustration by many who are already struggling to deliver funded care with modest local authority rates.
The consultation closes at 10am on 9th October. Find out more and complete the survey here.
Relationships Education
From September 2020 all primary school children will receive Relationships and Health Education. If you care for school-aged children, it will be beneficial for you to understand what they are being taught about so that you can support them with their learning and any questions they may have. It is a good idea to have a discussion with parents so as you are clear on how they would like you to respond to questions around sensitive topics such as puberty and sex education.
You can find information about the Relationships and Health Education curriculum here.
Hungry Little Minds
In July, the Department for Education launched it's Hungry Little Minds campaign. Enhancing early communication, language and literacy development is a key priority for the government in addition to improving life chances for our poorest children who often start school months behind their peers. Through a collection of ideas, activities, short videos and links to find local learning activities, the three-year campaign aims to help parents in supporting their child's development and understand the benefits that taking time to play, chat and read to their child can have.
If you care for under fives, it is a great resource to look at for inspiration and to share with parents alongside the The National Literacy Trust's Small Talk website covered in our Spring News Update.
Find Hungry Little Minds here.
And at MindingKids…
APP developments well underway

Plans to introduce a new income and expenses logging feature to the app are well underway. Our developers are working hard behind the scenes perfecting a new function that will enable users to record any income and expenditure then create reports from the app, making the calculation of business accounts a piece of cake! We hope that this new feature will be available very soon and will be complimented soon after by an invoicing function that will enable users to create and send invoices to parents directly from the app.
In addition to these new features we are also putting the finishing touches together to better promote the app on the website with an improved description of the app features and an updated app-guide page.
We are very proud of how far the app has come from the initial concept to where it is today and are delighted to see that so many have chosen to use it alongside our resources to assist with the running of their childcare settings.
OR if you had a trial a little while ago but fancy another go…contact us and we can grant you with a 2nd trial absolutely FREE!    
Customised Resources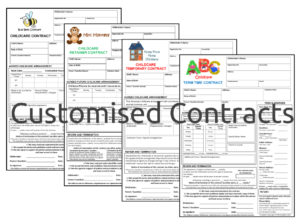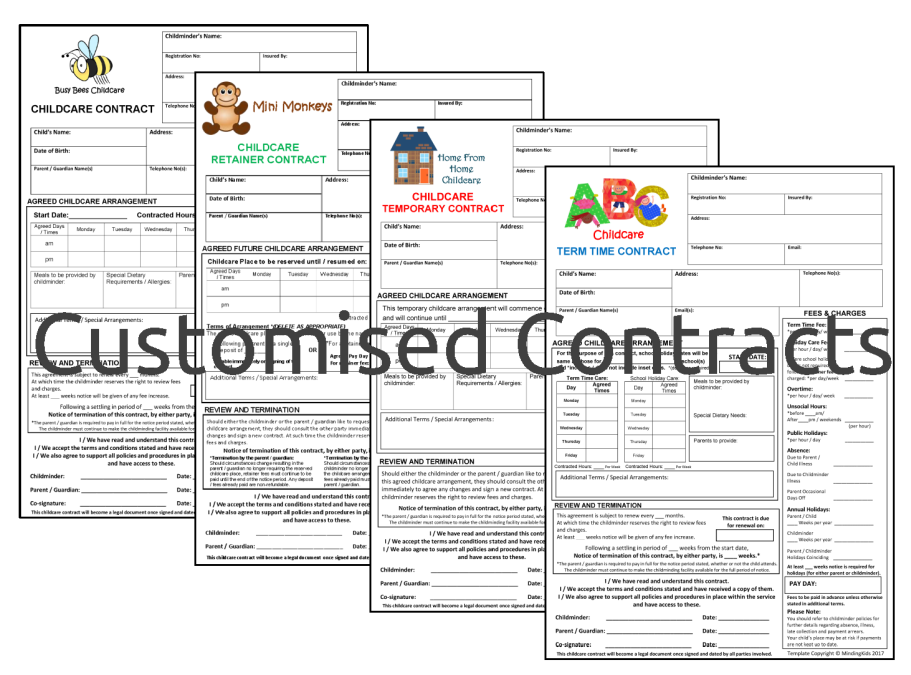 Lately we have been overwhelmed by requests and positive feedback for our customisation service. Right now is a challenging time for childcare providers therefore ensuring you stand out from the crowd to prospective families is essential. We can assist by personalising templates with your business name and logo…or even assist with designing a logo for you to really give your documents the professional edge.
Summer is often a very busy time for customisation requests as we update documents in preparation for the new school term. We are delighted to see so many taking up this option and are always happy to help in whatever way we can to personalise and adjust templates as required to suit individual circumstances.
Our customisation service is currently offered on our Childminding Contracts, Parent Information & Marketing Pack, Invoices & Receipts and Policies & Procedures booklet and comes at no additional cost to MindingKids members!
Requests are dealt with on a first come first served basis and are usually completed within 7 days. Contact us for further details.
Since our Spring News Update the following resources have been added, updated or improved…
Remember MindingKids Members have unlimited access to all MindingKids resources immediately as they are added or updated! Click here for further details!
New Resources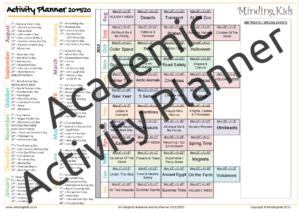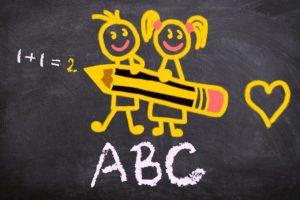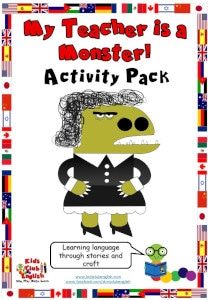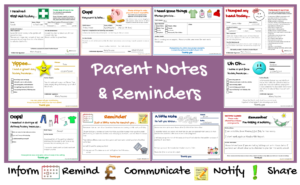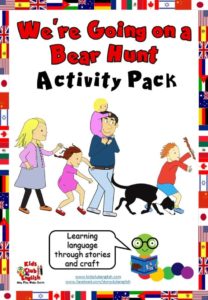 Updates / Amendments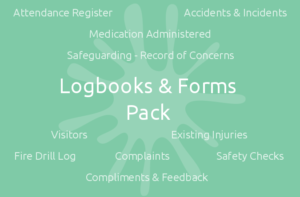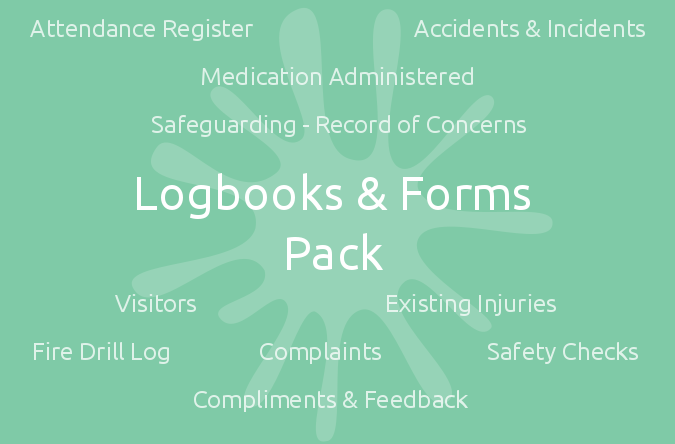 As well as revamping all of the existing forms, we have also added a NEW Illness Record, Physical Intervention Record AND Drop Offs / Collections Register!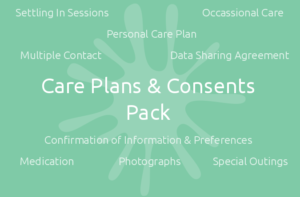 We have added Parental Responsibility and Support Services Forms
PLUS added versions for Nurseries & Care Clubs!

AND our Seasonal Planning Sheets have been refreshed… ensuring you NEVER FORGET to do anything important!
And Almost Ready…
👣Next Step Example Notes!👣
Never struggle on planning for next steps again!
Plus… New & Updated Policies… and a Scottish ELC Funded Provider Checklist!
👀Keep a look out on our NEWS Page for further details! 
Thank you to all for your continued support! Keep a look out for more MindingKids News soon!
Many thanks! Cheryl & The MindingKids Team! xxx