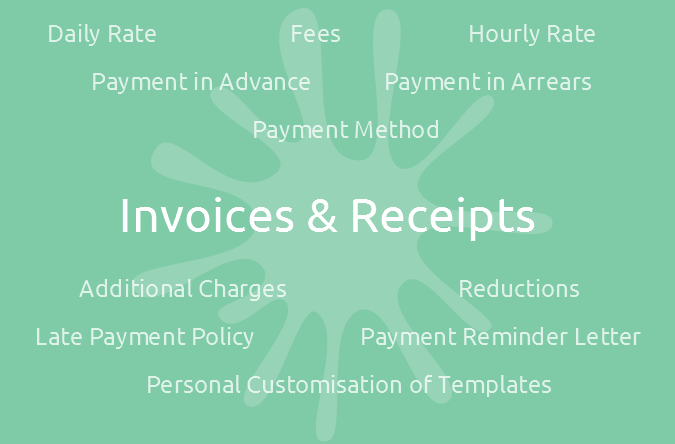 Create professional invoices and receipts for your childcare business. A vital resource to help keep your business finances in order. (Personal customisation of templates available on request!) THIS RESOURCE IS ALSO INLCUDED IN THE ACCOUNTS PACK!
*PLEASE NOTE: THIS RESOURCE IS ALSO INLCUDED IN THE ACCOUNTS PACK!*
Now includes new Funded Hours Invoice Template!
As a professional childcare service, it is important that you supply parents and carers with proper requests for payment and written receipts. Not only does this help to keep your business finances in order but it ensures that everyone is kept informed of what has been paid and what is outstanding.
Invoice Templates
Use these invoice templates to create professional invoices to hand out to parents each week or month. Supplied as PDF Forms, you can use your computer or tablet to type information into the invoice templates before printing or emailing to parents. Don't forget to save a copy to your files to refer back to for your accounts.
Depending on how you operate your business, choose which invoice style best suits your payment set up.
Completed Examples Included
Receipt Template
Use this receipt template to create professional receipts for your business which can be issued to parents and carers following payment of an invoice. (3 receipts per A4 sheet)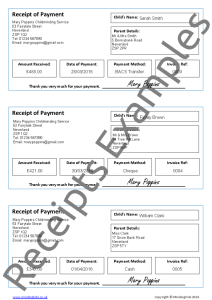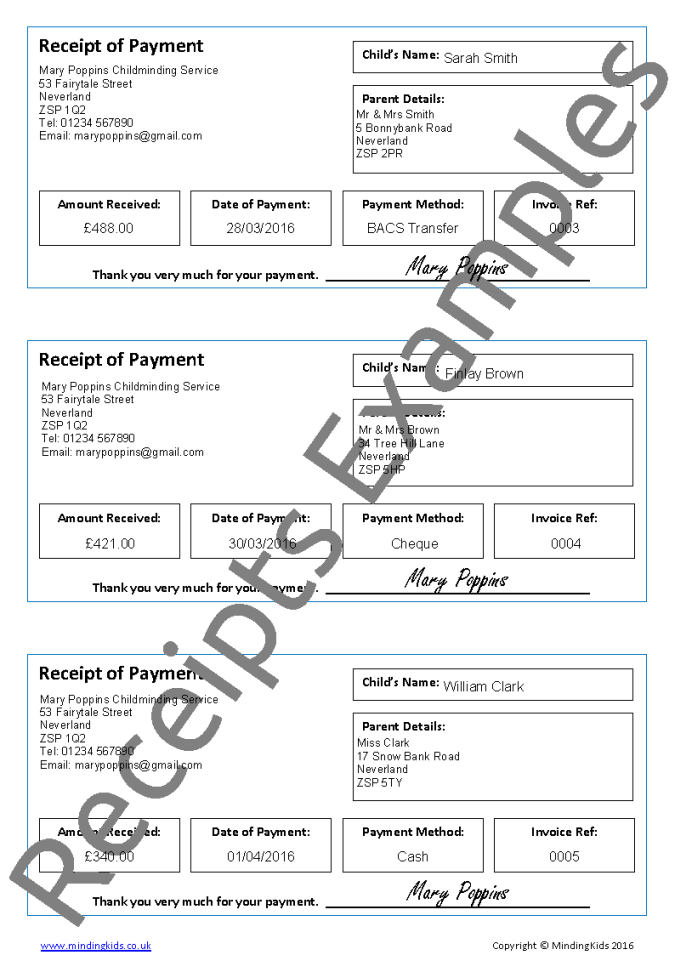 Completed Examples Included
Customised Templates
Want to further personalise your invoices and receipts? MindingKids can help you add your business name and logo to the templates or make small wording changes as you require. This customisation service is FREE to all MindingKids Members or can be purchased as an additional service. Simply email us at contact@mindingkids.co.uk with details of the customisation you require.
Logos must be provided in png or jpeg format. Requests for customisation will be dealt with on a first come first served basis and emailed out on completion.   
Plus…
This Pack also includes:
Late Payment of Fees Policy Template
Payment Reminder Letter Template
Supplied as word documents, these templates are completely editable and can be used to remind parents of your policy on payment and prompt them to quickly settle any outstanding invoices.
Further Details
Invoice and Receipt Templates are supplied as PDF Forms. Simply click in each area to add information or print out and complete by hand.
Late Payment of Fees Policy and Payment Reminder Letter templates are provided as Microsoft Word documents and are entirely editable.
For personal customisation of invoice and receipt templates, please contact us with further details.
The download version of this pack is supplied as a ZIP FILE. Please see the FAQ page for further information.  
NOTE: This item is also included in the following PACK:
Accounts Pack – – Easily work out your weekly, monthly and annual income and expenses using simple logsheets.
Reviews
You must log in and be a buyer of this download to submit a review.