Safeguarding & Child Protection
Safeguarding is an umbrella term which covers everything that we do in order to keep children safe.
As a childcare provider you have a duty to protect all children in your care and must be aware of a variety of child protection issues and the measures we can put in place to protect children from harm. Are you doing all that you can?
Be SURE by working through our Safeguarding Steps…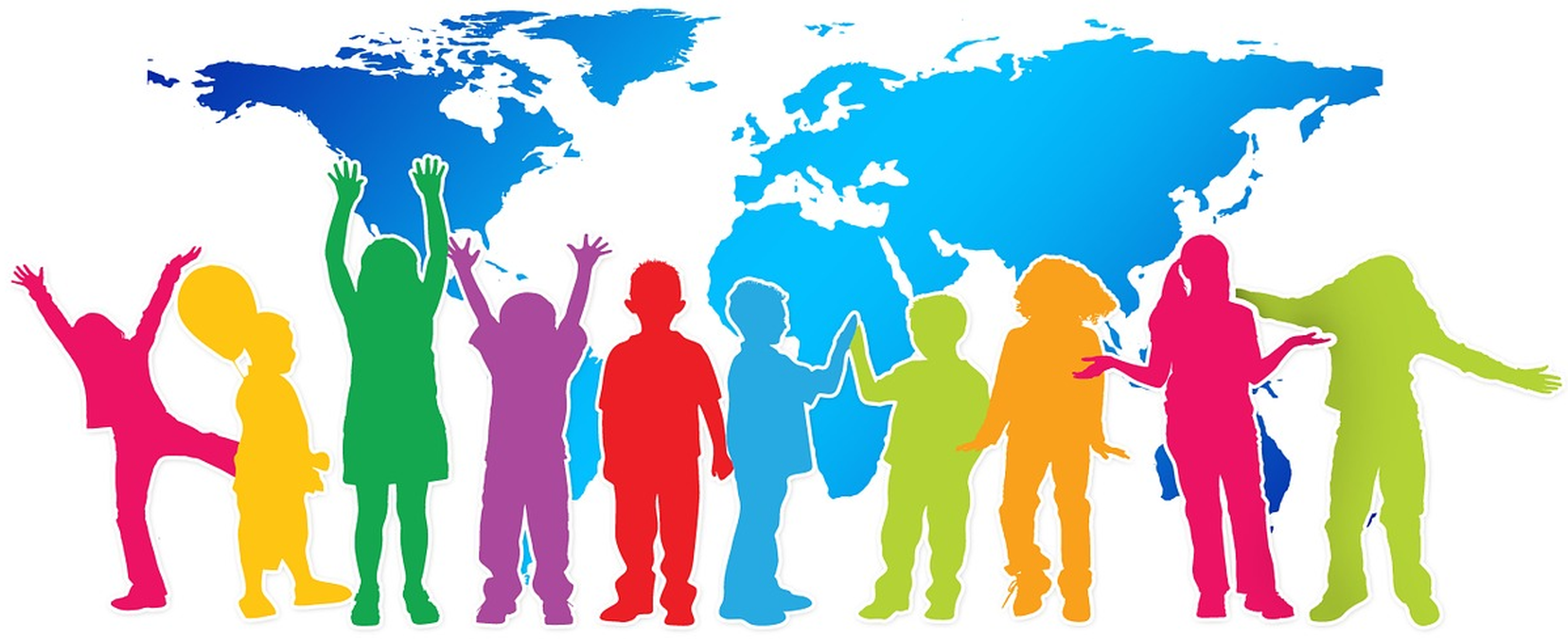 1. Undergo or Refresh your Training
All childcare providers must undergo safeguarding / child protection training as a condition of their registration. This training must also be refreshed regularly (at least every two years).
If you are new to childcare or are in the process of registering, check what child protection training is available in your area. If the last time you refreshed your training is coming up for two years ago, make sure you get yourself booked on a course ASAP! Your local authority should be able to assist you with what is available in your area or look online for accredited courses. Once complete, display your certificate in your setting or file it in your Safeguarding folder ready to show on inspection AND set a reminder in your calendar to re-fresh training in two years time.
2. Ensure Disclosure Checks are in place
You must ensure that you have up to date Disclosure (DBS/ PVG) checks in place for you, any staff members or assistants you employ and anyone else aged 16 or over who lives at or visits your setting regularly.
If you are in Scotland find guidance on the PVG Scheme HERE.
If you are in England find out more about DBS Checks HERE.
If you are in Wales find information about DBS Checks HERE.
3. Check the latest guidance and legislation
It is important that you keep up to date and are aware of the latest safeguarding guidance and your responsibilities as a childcare provider. You do not need to keep printed copies of each document but it is a good idea to download and save a copy that you (and any staff or assistants you employ) can refer to easily.
For providers registered in Scotland:
Find the National guidance for child protection in Scotland here.
For providers registered in Wales:
You can find Child Protection and Safeguarding guidance on the Welsh Government website:
Prevent Duty Guidance
You must also understand the risk of radicalisation and extremist behaviour and be aware of your responsibilities in relation to the Prevent Duty Guidance.
The Prevent Duty Guidance documents for ALL areas of the UK can be found HERE.
See step 8 below for further information on the Prevent Duty.
4.  Be Aware of the Types and Symptoms of Abuse
In order to protect children from harm, it is essential that you understand the four main categories of abuse and would recognise the signs and symptoms for each. Use the acronym PENS to help you remember the various types of abuse:
Physical Abuse is where deliberate physical harm is inflicted and can involve hitting, kicking, punching, throwing, shaking, scalding, burning, poisoning, drowning or suffocating. Physical abuse also includes where someone has deliberately caused the ill health of another through fabricated or induced illness in order to seek attention.
Symptoms of physical abuse include: unexplained bruising, marks or injuries on any part of the body, cigarette burns, human bite marks, broken bones, scalds, flinching when approached or touched, reluctance to get changed, depression, withdrawn behaviour, running away from home.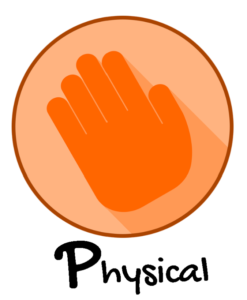 Emotional Abuse is when a person's emotions are deliberately ignored, taken advantage of or not met. Children require love, security, praise and recognition in order to grow and develop emotionally. Someone may be regarded as being emotionally abusive where they are consistently hostile, rejecting, verbally abusive or threatening towards another individual. Domestic abuse can also be regarded as a form of emotional abuse and can include situations where inappropriate expectations are placed on an individual or when someone is prevented from having social contact with others.
Symptoms of emotional abuse include: neurotic behaviour e.g. sulking, hair twisting, rocking, withdrawn behaviour, being unable to play, fear of making mistakes, too eager to please, sudden speech disorders, self-harm, eating disorders, very low self-esteem, developmental delay in terms of emotional progress.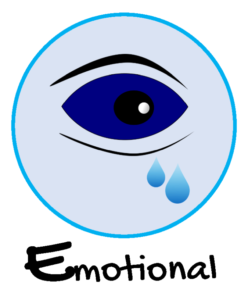 Neglect is when there is persistent failure to meet a child or vulnerable person's basic physical or psychological needs. Neglect can cause significant harm to an individual's health and development and can include being left unsupervised or alone for long periods of time, being inadequately fed or clothed, ignoring or failing to assist with medical (e.g. failure to seek medical treatment or administer medication) or personal hygiene needs (e.g. toileting, washing, toothbrushing, etc). Being kept in inappropriate, unsafe or unhygienic accommodation can also be viewed as neglect as can lack of stimulation, social contact or education.
Signs of neglect include: constant hunger, sometimes stealing food from other children, constantly dirty or 'smelly', loss of weight, or being constantly underweight, inappropriate clothing for the conditions, complaining of being tired all the time, not requesting medical assistance and/or failing to attend appointments, having few friends, mentioning being left alone or unsupervised.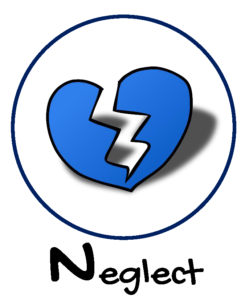 Sexual Abuse occurs when someone is forced or enticed into taking part in sexual activities, regardless of whether they are aware of what is happening. Sexual abuse can include both penetrative or non-penetrative physical contact or being made to watch sexual activities for example pornographic material.
Symptoms of sexual abuse include: pain, itching, bruising or bleeding in or near the genital area, sexually transmitted disease, vaginal discharge or infection, stomach pains, discomfort when walking or sitting down, pregnancy, sudden or unexplained changes in behaviour, fear of being left with a specific person or group of people, sexual knowledge which is beyond their age or developmental level, sexual drawings or language, acting in a sexually explicit way towards adults.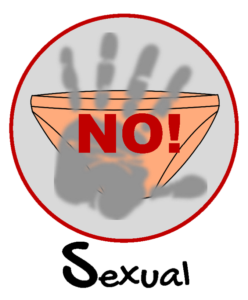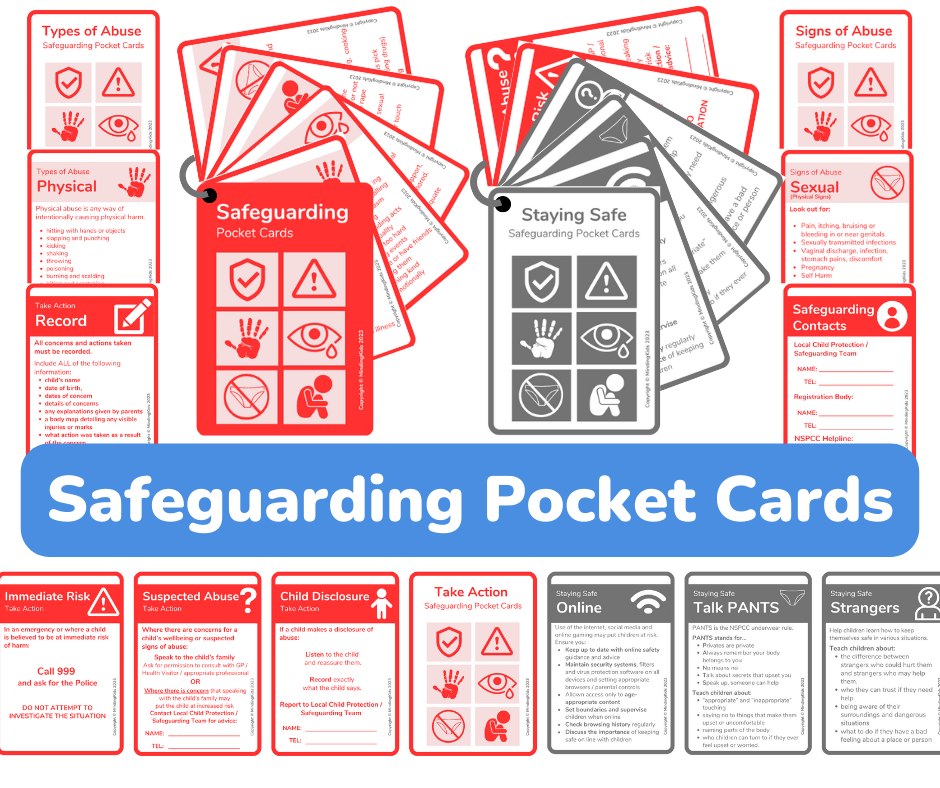 5.  Know what to do if you have concerns or suspect abuse
If you suspect that a child is being abused or have concerns that they may be at risk then it is crucial that you take action immediately.
Discuss the matter with the child's parents or, where you feel this is not appropriate or fear this could put the child into further danger, seek advice from your Local Child Protection Committee / Local Safeguarding Partner / Local Safeguarding Children Board or the NSPCC who will offer advice on how to deal with the situation.
NSPCC Helpline: 0808 800 5000
If you believe a child is at immediate risk of harm, call the police without delay.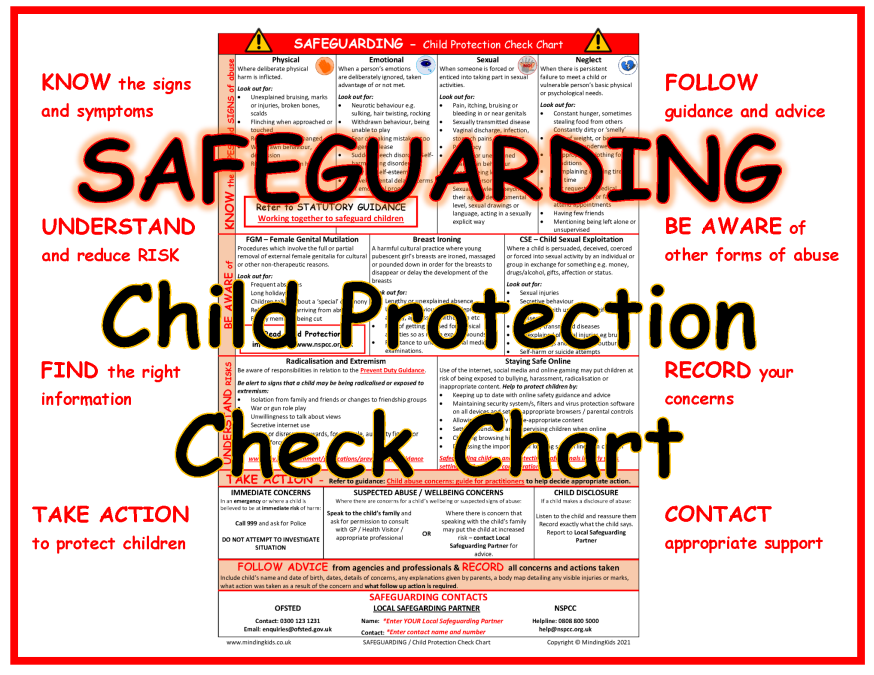 Keep written records of any safeguarding concerns you have and what action was taken. Remember to include the child's name and date of birth, the date the record was made, details of concerns, any explanation given by parents, a body map detailing any visible injuries or marks, what action was taken as a result of the concern, what follow up action is required and sign your report. Keep any safeguarding records secure but be prepared to share them with your local child protection team, social workers, Ofsted / the Care Inspectorate or the police as part of child protection procedures.
Find Safeguarding / Record of Concerns, Accident & Incident and Existing Injuries record sheets included in the Logbooks & Forms Pack.
7.  Be informed about FGM and Breast Ironing
FGM or Female genital mutilation is a collective term for procedures which involve the full or partial removal of external female genitalia for cultural or other non-therapeutic reasons. This practice is not required by any religion, causes extreme pain and serious health consequences. FGM is illegal, medically unnecessary, and is regarded as a form of physical abuse. If you suspect that a child has had or is at risk of FGM, you must report this to the police immediately.
Look out for: Frequent absences or long holidays, talk of a 'special ceremony', a relative (the cutter) arriving from abroad, family members being cut.  
Further information can be found on the NSPCC website and in this statutory Guidance:
Multi-Agency Statutory Guidance (England & Wales)
Responding to female genital mutilation (Scotland)
Breast Ironing also known as "breast flattening" is another harmful cultural practice where young pubescent girl's breasts are ironed, massaged or pounded down through the use of hard or heated objects in order for the breasts to disappear or delay the development of the breasts entirely.
Further information can be found on the Safeguarding Hub website.
Safeguarding procedures must be followed if you have concerns as breast ironing is a form of physical abuse.
8.  Be Aware of radicalisation, extremist behaviour and the Prevent Duty Guidance
In addition to awareness regarding the various forms of abuse, childcare providers must also understand the risk of radicalisation and extremist behaviour and their responsibilities in relation to the Prevent Duty Guidance which became law on 1st July 2015.
Find Prevent Duty Guidance for England, Scotland and Wales here.
Signs that may indicate a child is at risk: Changes to friendship groups or isolation from family and friends, Role play about guns or war, Unwilling to talk about views, Secretive use of the internet, Anger or disrespect towards authoritative figures or the armed forces.
If you are concerned that a child is being radicalised you must record your concerns, contact the Prevent Duty helpline and inform your Local Safeguarding Children Board (LSCB).
If you are worried that there is an immediate risk to the child or to others, contact the police.
9.  Promote British Values
The Prevent Duty (See Step 8) also requires childcare providers to actively promote British Values to help ensure that children are less likely to be drawn into radicalisation and extremist behaviour. The government defines British values in the Prevent Strategy as: Democracy; The rule of law; Individual liberty and personal responsibility; Mutual respect and Tolerance of those of different cultures, faiths and beliefs.
So what do we actually need to do? The answer is that you are most likely already promoting British Values through your day to day routine without even realising it.
For example you will:
Treat children with respect and dignity, request their views, allow them to make choices and provide opportunity to interact and work with others, learning to listen, take turns, compromise, etc.
Promote positive behaviour, encourage good manners, kindness and politeness.
Encourage independence, self-care skills and responsibility through activities, helping with chores and assisting others.
Teach children about safety, rules that keep us safe and people in society that help us.
Provide opportunities for children to be involved in their local community, learning about where they live and to respect their surroundings and the environment.
Through topics, themes, books, puzzles and a variety of activities and resources, teach children about the wider world, cultures and traditions, similarities and differences, and that we are all unique.
Take some time to think about the various things that you do. Whilst it is not a requirement, you may find it helpful to create a Promoting British Values policy to share with parents or to be ready to talk about on inspection.
Find a template Promoting British Values Policy in our Policies & Procedures Pack!
Is your setting a safe environment for children? Have you thought about and taken action to minimise any risks? Whilst there is no requirement to have written risk assessments, it can be very useful to go through each room and area of your setting to check that you have considered all of the risks and done everything you can to reduce the chance of any accidents.
In addition to evaluating the risks in and around your childcare setting, you must also consider in detail how you can keep children from harm whilst taking part in activities, whilst travelling, or away from the setting on outings.
Our Risk Assessments Pack has lots of templates and examples that can be easily edited and adapted to suit your individual setting and circumstance.
You can also download our FREE Daily Risk Assessments & Safety Checks sheet to help ensure your setting is safe and hazard free every day. And our FREE Safety Guidelines Chart summaries the steps we can take to prevent accidents.
11.  Be Prepared for an Accident or Emergency
Whilst we may put many measures in place to ensure children's safety and do what we can to keep them from harm, unfortunately accidents can still happen. We need to be prepared to take action quickly and know how to deal with an accident or emergency:
Training – As a condition of registration, all childcare providers must hold a valid paediatric first aid certificate. Make sure that you keep your training up to date! Display your certificate on your notice board or keep it in a file ready to show on inspection.
First Aid – You must keep a first aid kit in your setting and ensure that all assistants and members of staff know where it is. Take a mini first aid kit with you on outings or keep one in your car so as you are prepared to deal with any accidents when you are out and about. Don't forget to check your first aid kit regularly to ensure used items are replaced and the contents is within it's use by date.
Our FREE First Aid Kit Contents Checklist will help you to check you have all the essentials.
Recording & Reporting – Any accident or incident that occurs whilst a child is in your care should be recorded so as there is an accurate log of what happened, any injuries sustained, what action was taken including any first aid or medical treatment and any procedures or follow up actions that were or are to be followed as result of the incident.
Find Accident / Incident Log Sheets included in the Logbooks & Forms Pack.
Emergency Procedures – In the event of an emergency, it is vital that you have a procedure in place to ensure that all children, staff, family or other visitors are protected from harm. You must also consider how you might deal with a national emergency or terrorist attack, emergency or alternative care for children and ensure that parents are aware of the procedures you would follow in such a situation.
Find templates for Emergency Evacuation Procedure, Emergency and Alternative Care Policy, Terrorist Attack / National Emergency Policy within the Policies & Procedures Pack.
And a Fire Drill Record and Fire Safety Checks within the Logbooks & Forms Pack.
Emergency Contacts – Ensure you have emergency contact details for every child and review and update this information regularly so that parents can be informed as soon as possible in the event of an accident, incident or emergency. Use Care Plans / Registration forms to collect this information when a child first begins at your setting and ask parents to keep you informed of any changes.
These Child Information / Emergency Contact Cards are perfect for taking on outings ensuring you always have the necessary details to hand.
12.  Understand when additional safety measures are required
If you care for children with additional support needs, disabilities, medical conditions, allergies or intolerances, it is vital that you understand their requirements and follow any additional procedures necessary to ensure their safety. Having a Care Plan in place for each child will allow you to collect all of the relevant information you need including any additional care requirements and any other professionals or agencies that are involved.
For children who suffer from Asthma, Allergies, Seizures or who have Special Dietary Requirements, these Health Care Plans will enable you to have all the important information to hand and know what to do in an emergency.
If you provide food within your setting and care for children with special dietary requirements then the Healthy Eating Pack has many resources to help you plan for this including allergen posters, questionnaires and menu checkers.
If you care for children with additional support needs or disabilities then you need to be aware of your requirements under the relevant code of practice:
Scotland: Supporting children's learning: code of practice
England: SEND code of practice: 0 to 25 years
Wales: Special educational needs: code of practice
Northern Ireland: Code of practice on the identification and assessment of special educational needs
13.  Ensure good hygiene and Infection Control
In addition to reducing the risk of accidents from occurring within your setting, it is also essential that you follow procedures to maintain good hygiene and reduce the spread of infection.
Training – If you have not done so already, undertake some training in infection control. Contact your local authority to see what is available in your area or look online for accredited courses.
Hygiene Procedures – Review the procedures that you have in place to maintain good hygiene within your setting. Think about hand washing, food preparation, toileting and nappy changing, pets, playing outdoors, regular cleaning and disinfecting. Find template Hygiene, Nappy & Toilet Training and Pet policies within the Policies & Procedures Pack and this FREE Monthly Cleaning Schedule and this Toy Cleaning Logbook will help you ensure your setting, toys and equipment are cleaned regularly.
Managing Illness – You must do what you can to help prevent the spread of viruses or contagious infections. The risk to babies, young children, expectant mothers or those with medical conditions is often greater so it is extremely important to have an illness policy in place and stick to it! An exclusion period of 48 hours is the recommended guidance after suffering from a fever, sickness or diarrhea. Find a template Illness Policy included in the Policies & Procedures Pack.
Preparing and Serving Food – If you provide meals and snacks as part of your childcare service it is a legal requirement to have your premises registered as a food business with your local authority. If you are in England, this will most likely have been completed as part of your registration process. If you are in Scotland, you may need to complete a separate registration. You can check with your local authority or contact Food Standards Scotland or the Food Standards Agency.
As a food business, you may be inspected by your local environmental health service at any time so you must make sure that your food hygiene and safety procedures are up to standard. Find the Safer food, better business for childminders guidance here and more helpful resources in the Healthy Eating Pack.
14.  Check Sleep Safety Procedures
If you care for babies and young children then it is highly likely that they will require to sleep or take naps during their time with you. You must make sure that you provide a safe sleeping environment and check on sleeping children regularly.
You can find safer sleep advice on the Lullaby Trust website and also the NHS website.
The Policies & Procedures Pack includes a template Sleep Policy and this Baby Sleep Monitoring Chart will assist you with recording nap times and regular checks.
15.  Check Travel Safety Measures
If you use a car or vehicle to transport children then you need to ensure it is regularly serviced, has a valid MOT certificate and that you are insured to use the vehicle for business use. In addition. you must follow current car seat safety guidance and check that all children are securely strapped into their seats and are comfortable before setting off on your journey.
If you walk or take public transport with children then you must also consider everything that you can do to ensure children's safety.
Find Transport and Outings Policy templates included in the Policies & Procedures Pack.
16.  Teach children how to stay safe
As a childcare provider you also have a responsibility to help children to learn how to keep themselves safe in a variety of situations. Numerous situations will arise through your daily routines and activities where you can set good examples and you can emphasise the importance of safety through learning topics and activities. For example:
Road Safety – Whilst walking with you around your local area, you will have the opportunity to show children how they can walk and cross roads safely. Teach the green cross code through games and activities. Find some useful resources on the Think and Brake websites.
Stranger Danger – Children need to be made aware that some people may not be who they appear to be and that it is not always safe to talk to strangers. Find information on the School Beat and Families Online websites and the NSPCC has some useful guidance on Staying safe away from home.
Emergency Services / People Who Help Us – It is important that children learn what to do in the event of an emergency and also that there are services and people who can help us. Find information and resources on the Red Cross website and you may also find this lesson plan from the British Council helpful. Find more ideas in the People Who Help Us Activity Pack.
Online Safety – With technology becoming more and more a part of our everyday lives, children must be made aware of the dangers that they can be exposed to online and what they can do to stay safe. Find useful resources and advice on the NSPCC and Internet Matters websites. In addition, you must ensure you have adequate measures in place to protect children whilst using the internet in your setting through the use of supervision, parental controls, and virus protection. Find a template Internet Safety Policy included in the Policies & Procedures Pack.
Consider other safety topics or situations that children can learn more about to help keep themselves safe. For example:
Fire Safety / Bonfire Night
Water Safety / Paddling Pools / Swimming / Icy Ponds, etc
Pets & Animals
Drugs / Medicines
Poisonous Substances
Bullying / Peer Pressure
If you have any concerns about any of the children or families you provide care for do something about it!
Talk to parents, ask advice from your local safeguarding board, from other professionals, or contact the NSPCC .
If you are concerned that someone is at immediate risk of harm, contact the police.
You can make a difference and help keep children safe.