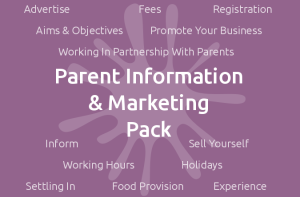 As part of our work to refresh and update some of our original packs, we are delighted to announce that the Parent Information & Marketing Pack has now been REFRESHED and IMPROVED!
In addition to revamping the design of the existing resources, we have now added a Dealing With Enquiries section with a Care Enquiry Form and a Welcome Meeting Prompt Sheet to assist with responding to enquiries, recording important information, and ensuring initial meetings with parents flow well and reflect the professional service that you offer! 
Attract potential clients with eye-catching Adverts and Flyers, share your contact details with professional looking Business Cards and be prepared to really impress at your welcome meeting with your comprehensive Service Information Booklet.
Includes ALL of the following:
Marketing Resources 
Business Cards
Adverts (Poster / Car Advert & Postcard)
Flyers
Marketing Your Business – Advertising Tips
Information Resources
Parent Information Booklet 
Activity Timetable
Menu Planner
Healthy Packed Lunch Suggestions
Responding to Enquiries / Welcome Meeting Resources
Care Enquiry Form
Welcome Meeting Prompt Sheet
Responding to Enquiries and meeting new families – Guidance Sheet
AND don't miss the Customisation Service also available with this pack!  – FREE to Gold & Platinum Members!
Need some assistance to get your marketing resources and information booklet looking as you would like or help to create an E-booklet? No problem, contact us and enquire about our customisation service and we will be happy to assist you. We can help you add your business name and logo to further personalise your documents!
New Welsh version also available!
Members log into your Account to download EVERYTHING as part of your subscription package!