Tuck into this BUMPER Pack to Promote Healthy Choices in your setting, manage allergens and special dietary requirements, follow food safety guidance and involve children with fun healthy eating activities!
Tuck into this BUMPER Pack to
Promote Healthy Choices

in your setting,

manage allergens

and special dietary requirements, follow

food safety guidance

and

involve children

with fun

healthy eating activities

!

Childcare providers have a responsibility to ensure that all children in their care are provided with a well-balanced diet and to promote healthy life choices. In addition to teaching children about healthy foods, looking after our bodies and the importance of good oral hygiene, we can also support parents with promoting healthy choices at home.

Providers must also be aware of food safety guidance and how to manage special dietary requirements. Legislation enforced by the Food Standards Agency requires all food businesses, including childminders, to know what allergens are contained within the food they provide.

This resource pack has been put together using information from 'Setting the Table, Nutritional Guidance for early years childcare providers in Scotland', EYFS Food Safety Guidance and information from the Food Standards Agency website.

SUITABLE for use in ALL Childcare Settings!
This pack will assist with:
📅 Menu Planning and Promoting Healthy Choices
🍏Checking you are offering a healthy variety of food and that children are being provided with their recommended daily allowances
 🚩Obtaining and managing allergen information and providing for special dietary requirements
⚠️Managing food safety including good food hygiene and cooking safely
👩‍👧‍👦 Involving children in fun healthy eating activities
🦷Teaching children about eating healthily and looking after our bodies and teeth
📢 Sharing information about healthy eating, allergen management and food provision in your setting.
Includes:
⭐ Meal & Snack List ⭐ Menu Planners ⭐ Healthy Eating Charts ⭐ Baby Weaning Chart ⭐ Healthy Packed Lunch Suggestions & Poster ⭐ Allergen Questionnaire and Menu Checker ⭐ Recipe Sheets ⭐ Food Flash Cards ⭐ Activity Sheets ⭐ Food Safety Resources and MORE!
Menu Planning
Find everything you need to plan healthy meals and snacks for children. Check that you are giving appropriate food choices and portion sizes and how you can support parents who are weaning their babies.
Healthy Eating Charts, Baby Weaning Chart and Meal and Snack List
Supplied as a Microsoft word document, you can edit or add to the meal and snack list as you wish and provide to parents to inform them about the food choices you offer in your setting.
Menu Planners
Use the Menu Planners to plan your food provision for the weeks ahead. Share them with parents so as they are kept informed of what is being provided for their child each day. Provided as PDF Forms you can add information to the planners, saving a new copy for each week – You may wish to use like a school menu, working with a Week 1, Week 2 type system.
Packed Lunch Suggestions and Healthy Packed Lunch Poster

Where food is to be provided by parents share this healthy packed lunch suggestions sheet to support them with ideas and display this Healthy Packed Lunch Poster to further promote healthy choices.
Recipe Sheets
Note down your setting's favourite recipes and plan new healthy meals and snacks. Include allergen information and whether or not each recipe is suitable for vegetarians or vegans and add learning opportunity ideas for children, listing what and children can learn through helping to prepare the recipe. Excellent for getting children involved in cooking, increasing their awareness of healthy choices and learning life skills.
Includes 30 Sample Recipes taken from 'Setting the Table, Nutritional Guidance for early years childcare providers in Scotland' and 'Example menus for early years settings in England'
PLUS a blank template for you to create your own!
Laminate each completed recipe for improved durability and, if you wish, …put your very own Setting Cook Book together using the attractive front cover also supplied! Why not add photos of children cooking and helping in the kitchen? An excellent resource to share with children, parents and inspectors!
Allergens and Special Dietary Requirements
Everything you need to safely manage allergens and special dietary requirements.
Allergen Questionnaire and Allergen & Intolerance Checker
Use this questionnaire to obtain essential allergen information for each child in your care. Supplied as a PDF Form you can edit the parent information text at the top as you wish to suit your own setting. Keep with each child's personal care plan and review every 6 months in case of any changes.
Use the Allergen & Intolerance Checker to record which children have allergies or an intolerance to which foods. Display in your kitchen so as you can easily refer to it and double check ingredients when preparing meals and snacks.
Allergen Menu Checker
Use this menu checker to double check and keep a handy reference guide to all the allergens contained in your settings meals and snacks. This information should also be made available to parents on request.
Completed examples are provided.
Allergen Poster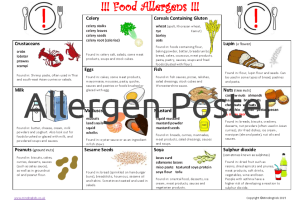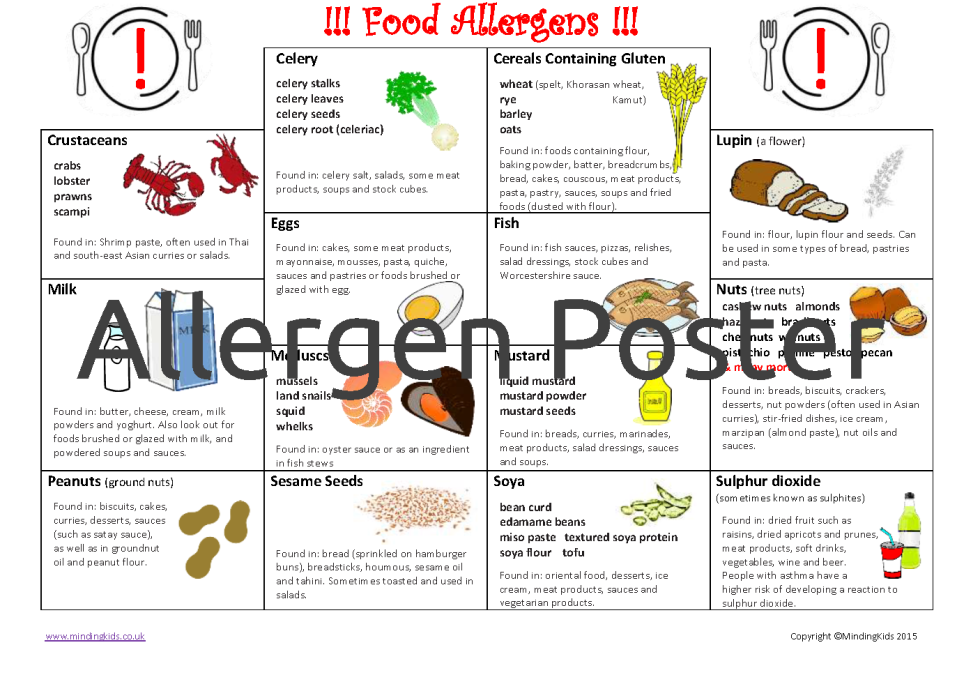 Display in your setting to demonstrate your awareness of the 14 main allergens.
Food Safety and Hygiene
Ensure food safety guidance and good hygiene procedures are followed.
Safer Food Guidelines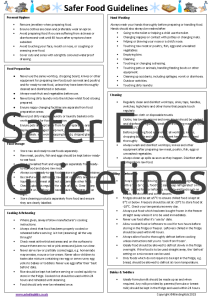 All the principle guidelines of food preparation hygiene and storage on one sheet. Perfect for easy reference in the kitchen and an excellent resource to share with family members, staff or assistants to ensure that everyone works together to keep your kitchen safe and clean.
Fridge & Freezer Temperature Log and Food Preparation & Temperature Log
Use these resources to:
Check and record the temperature of your fridge and freezer each day to ensure that chilled and frozen food is being safely stored at the correct temperature.
Check and record best before/use by dates, core temperatures of food and preparation methods to ensure food is cooked, cooled and reheated safely.
Hand Washing Poem & Poster and Cooking Safety Rules Poster
Teach children about cooking safely and the importance of good hygiene when preparing food. Display these colourful posters in your setting and remind children how to keep safe when cooking or helping in the kitchen.
Healthy Eating Activities
Use these resources to involve children in more fun healthy eating activities! Help them learn about different foods, the importance of eating healthily and looking after our bodies and teeth.
Food Flash Cards

Use these flash cards in a number of ways to help children recognise and learn about different types of foods. Try printing out 2 sets of cards to play healthy eating pairs or 3 or 4 sets for a game of healthy eating snap.
Unhealthy Choice Flash Cards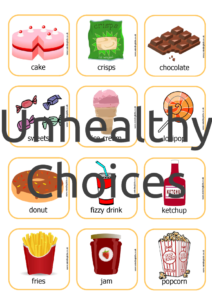 These flash cards may also be included to teach children about foods that are not so good for our bodies and teeth.
Healthy Eating Challenge Sheets
Use these sheets to teach children about different types of food, where foods come from and how our bodies use food to develop and grow. Use them with the food flash cards to add foods to appropriate categories, with play food resources, or let children draw food items onto the printed sheets.
Challenge children to distinguish between fruit and vegetables, sort into the different food groups or tell you where the food comes from.
Oral Health Activity Sheets
Childcare providers also have a responsibility to promote good oral hygiene awareness including the importance of tooth brushing and healthy eating habits. Use these activity sheets to help children learn more about foods we can eat that help to keep our teeth strong and those that can damage our teeth.
Healthy Eating Activity Ideas Sheet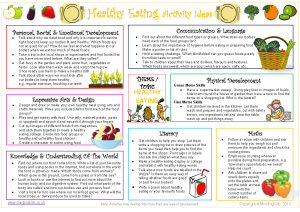 Tuck into this Healthy Eating Activity Ideas Sheet for more inspiration and fun activity ideas to help children learn about healthy choices and caring for our bodies. Links activity ideas to the areas of learning and development!
Also included: 
Healthy Eating and Food Safety Policy Templates
Set out in writing how you ensure healthy choices are promoted in your setting, manage allergens and special dietary requirements follow guidance with regards to child nutrition, food safety and hygiene. Share with parents and staff to ensure everyone is clear on setting procedures.  Provided as Microsoft Word documents, the templates can be edited to suit your setting and circumstances.
Note: These policy templates are also included in the Policies & Procedures Pack:
Please see the Further Details tab above for file format and supply information.
---
Reviews
You must log in and be a buyer of this download to submit a review.
The menu planner, allergen questionnaire, allergy and intolerance checker, allergen menu checker, recipe sheets, fridge/freezer temperature log and food preparation log are supplied as PDF Forms. Simply save to your computer then click in each area to enter information, or print out and fill in by hand.
The Food Safety,Healthy Eating Policy and sample meal & snack list are supplied as Microsoft Word Documents and can be edited as required to suit your business.
All other resources in this pack are supplied as standard PDF files and are not editable.
The download version of this pack is supplied as two ZIP FILES. Please see the Help page for further information.
If you find you cannot type information into PDF forms then you may require to install a PDF viewer that permits the use of forms. Adobe Reader DC is a popular one that will work on any device. There are different pricing options available but the reader version is Free and is adequate for completing and saving forms.