Whilst you may know you are due an inspection, not all inspections are announced so you should always make sure you are organised just in case!
Whether it is your first inspection or you have had several before, it is in your best interests to ensure you are prepared.
HERE are our top tips…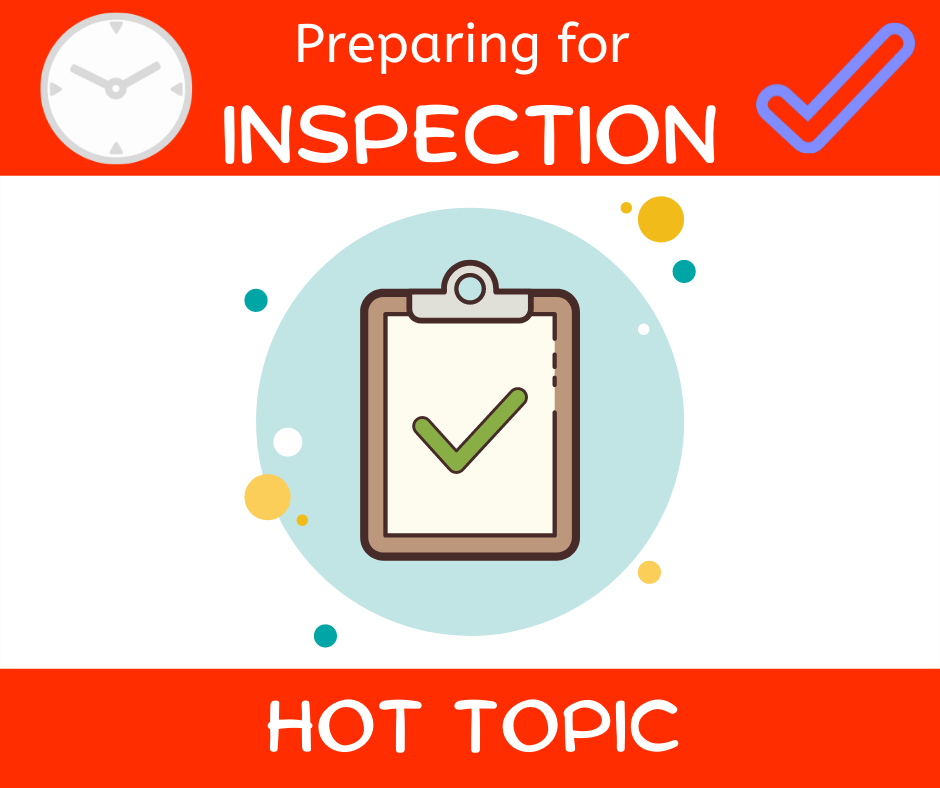 2. Self-Reflect and Evaluate.
Take some time to have a good look at your service. Think about what do you do well and what you like to improve on. Self-Reflection and Self-Evaluation exercises can be extremely useful prior to an inspection helping you to highlight positives and negatives. Make a list of things you need to work on and where possible 'fix' any major issues prior to your inspection. If a previous inspection report has highlighted any actions or suggestions for improvement, be prepared to explain the changes you have made.
Providers in England should refer to the Early years inspection handbook to reflect on the quality of  provision under each of the key judgements.
Our NEW EYFS Service Evaluation resource works through each of the key judgements, step by step, to assist with thoroughly evaluating every aspect of your service.
Remember that you do not need to action all of your desired changes prior to your inspection. Your inspector will be happy to see that you have taken the time to evaluate, have been able to identify any problem areas and that you have considered how improvements can be made.
What state are your records in? Is everything organised and up to date? Whether you keep paper records or save things electronically, take some time to check through children's files to ensure everything is in place. If you have not done so within the last 6 months, ask parents to update and review information.
Use our FREE Document Checklists to ensure you have everything in place:
Be ready to show the 'best examples' of paperwork should your inspector ask to see anything.
Remember also to be GDPR aware ensuring all records containing personal, identifiable information is stored securely. For further assistance with GDPR, refer to our FREE GDPR Guide and our GDPR Toolkit.
4. Refresh your legislation and national guidance knowledge
Are you aware of and have access to the latest legislation and national guidance? Our FREE Legislation & Guidance Lists are updated regularly to help you:
Don't panic! You are not expected to know everything inside and out but you should be able to show your inspector that you are aware of each guidance document, know where to access it and understand it's main principles. You are not required to have printed copies of each document but you may find it useful to save a copy on your computer.
6. Prepare staff / assistants and your own family members.
If you employ staff or assistants you should make them aware of the impending inspection and check that all of their records and certificates are in order too! Get together with your staff to ensure they are well informed and up to date with their key children, can confidently carry out setting procedures and are clued up on the latest safeguarding guidance. Your inspector will be interested in how well you manage your staff and how you encourage their professional development.
See our Childminder Assistant Employment Pack for relevant forms and resources.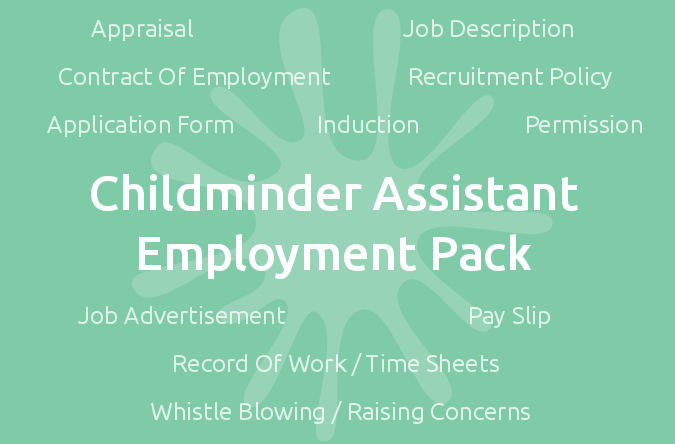 It is also a good idea to let your family know that you are due an inspection so that they can support you and help you to prepare. Remember that you must have a valid disclosure check (DBS / PVG certificate) for anyone in your household aged 16 or over.
7. Prepare children and families
If you know when your inspector is due to visit, you should let your service users know. Whilst you may be feeling apprehensive about your inspection, try not to pass these emotions on to the children. Feelings of uncertainty could lead to difficult emotions and behaviour when your inspector arrives. Try instead 'A visitor is coming to see us today. She is really interested to meet you all and see what you like to play with here.' This positive approach is more likely to help children to feel at ease.
You should also inform parents of your impending inspection and if time allows, ask them to complete a questionnaire about your service. Receiving regular feedback from children and parents is worth it's weight in gold. Giving questionnaires out every 6 months or so will mean that you always have fairly recent responses from current families and also allows you to work on any suggestions and areas for improvement that have been highlighted. Positive feedback from current families is perfect evidence to show that you are doing your job well.
Our template Parent & Child Questionnaires will help you to gather regular feedback about your service.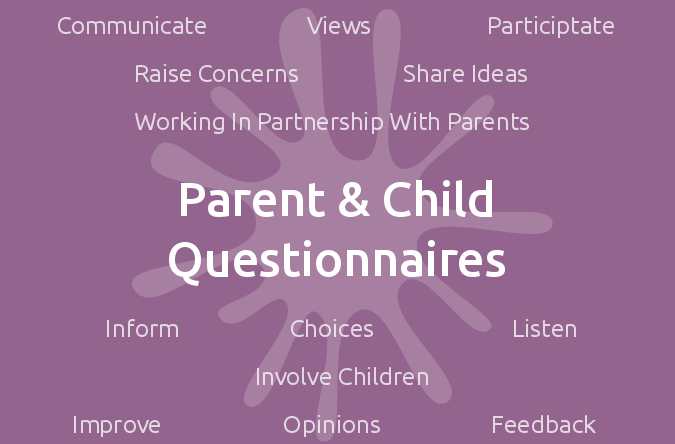 If you know the day or approximate date that your inspection will take place then you can try to be extra organised with your meal and snack preparations. Inspections normally take place over a few hours so it is highly likely that your inspector will be there whilst you are providing meals and snacks. Check that you have adequate supplies of healthy meal and snack choices so as you do not run out on the big day.
Your inspector will be looking to see that you follow nutritional guidelines and will be interested to see how you encourage healthy choices. Or, if parents supply lunch for their children, how do you promote nutritional advice and safely store and serve the food provided?
Depending on the ages and stages of children attending, try to involve them with preparing meals and snacks and encourage self-care skills, e.g chopping soft fruit or cheese (with a child safety knife), spreading their own butter onto toast, setting the table, pouring their own water, etc. Why not let them help with clearing the table and washing up too! Don't for get to encourage good hygiene, manners and if you care for children with allergies be prepared to explain how you manage this.
You can find lots of helpful resources in the Healthy Eating Pack including menu planners, allergen checkers, packed lunch suggestions, activities, food safety and hygiene resources.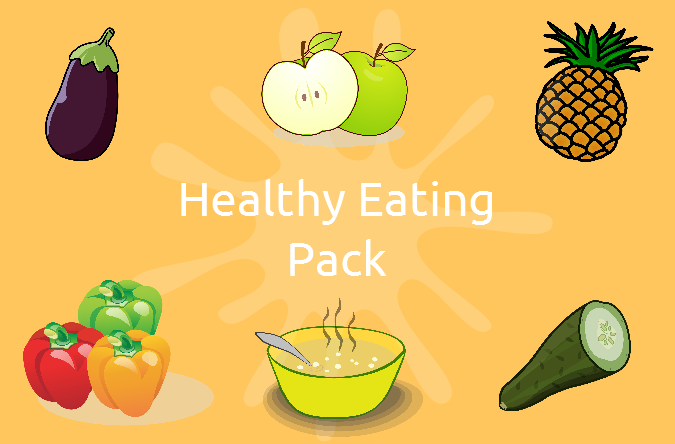 Again if you know the day or approximate day that your inspection will take place and what children are likely to be in attendance then you can be ready with some interesting activities.
Whether you follow a scheduled routine, plan using topics or themes or allow children to choose what they do each session, it can still be helpful to have an interesting activity at the ready so as to keep children engaged and occupied. Think back to a successful activity that you have done with the children in the past that you know they might be keen to repeat or try something new that you are confident will capture their interests. Also think about how you can use activities to show how you are aware of children's development progress and what might encourage next steps.
Consider your choice carefully. Will it be weather dependant? Is it messy or noisy? Will it become difficult to manage during your inspection? Will it encourage children to play together or does it risk an issue with taking turns and falling out? Wherever possible try to avoid any unnecessary stress or anything too complicated on your big day.
Your inspector will also be interested to see how you allow children to make choices and how you let them lead play. Think about what resources you have on offer and how children can choose from and access these.
Browse through our Activities Section for some inspiration. Use the Activity Planning Pack to plan ahead or link activities around a topic or theme or show how you let children make their own choices with the Activity Selector cards.
10. Check what is on display
Legally all childcare providers must have their registration certificate on display. It is also advisable to have other important information on display for example Ofsted / Care Inspectorate Parent information posters, Emergency Evacuation Procedure, weekly activity / menu planner, house rules and important dates or reminders. You may also want to include a welcome sign, latest newsletter children's artwork, photographs of children taking part in activities, etc.
IMPORTANT: You must have written permission from parents before displaying photos of their child.  
Space limitations may impact on how much information you can have on display and understandably, if you are working from your home, you may not want your walls to be covered with childcare information. Consider whether you can use a notice board that can be stored away out with your working hours or be prepared to show your inspector other methods that you use to ensure parents are kept well informed. Think of how you use daily diaries, social media, newsletters, email, digital systems or any other method to share important information with parents.
Whilst your inspector is not going to run her finger over your surfaces for dust, first impressions do count so try to keep on top of things in the run up to your inspection. Get family members to give you an extra hand and try where you can to get the children involved. Make a game out of toy sorting, and encourage being helpful and taking pride in our belongings and surroundings. Get rid of or replace and broken toys or equipment and make sure that you and any staff you employ are following your setting's hygiene procedures. If you have pets in your setting, you must also consider carefully what you do to keep children safe and prevent the spread of infection.
You can find hygiene, health and safety and pet policy templates in the Policies & Procedures Pack.
This Monthly Schedule will help you to keep on top of your cleaning and these Daily Risk Assessments & Safety Checks will ensure your setting is hazard free:
To ensure your inspection visit goes to plan you need a well thought out strategy so as you are ready to highlight how your service goes above and beyond.
Be ready to demonstrate how you:
Welcome and Include all families 
Share Information and Work in Partnership
Support Development in an Enabling Environment
Meet Care Needs and Support Routines
Promote Healthy Choices and Positive Behaviour
Provide Opportunities to be Active and Involved in the Community
Self-Evaluate and Action Plan for Improvement
Packed with inspiration, ideas and useful prompts, our Learning Walk Plan is perfect for boosting confidence and refreshing your knowledge so as you are ready to impress!
Don't panic! You are probably already doing all of the important things and if you have made your way through the majority of the steps above then you are most definitely inspection ready!
Remember that whilst your inspector is there to assess, she or he is on your side and will want to see you do well. On the day, don't forget to smile, hold your head up high and be proud of the fantastic service that you offer!
GOOD LUCK!