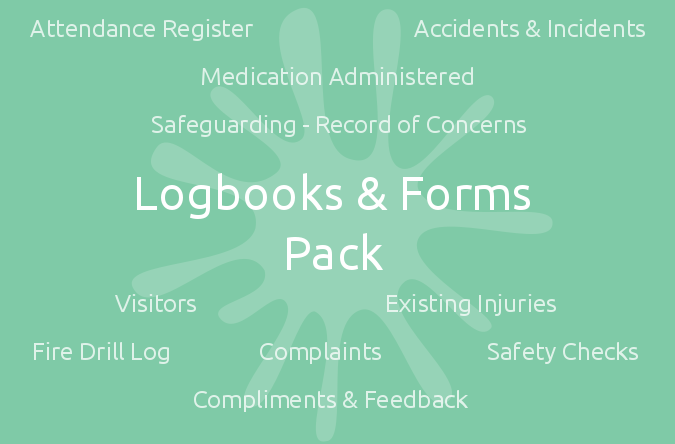 All the Logbooks required to run a well-organised, successful childcare business!
Create as many copies as you require for your entire childminding career!
NURSERY version also available!
All the Logbooks required to run a well-organised, successful childcare business!
PLEASE NOTE: The contents of this pack has now changed. For Care Plans & Consent Forms please refer to the NEW Care Plans & Consents Pack. 
This pack contains ALL of the following:                            
Attendance Register – Monthly and weekly registers included, with and without weekends. Choose which register works best for your setting.
Accidents & Incidents
Complaints
Compliments & Feedback – Provide opportunity for parents and carers to leave useful feedback and compliments about your service. Perfect for showing to potential future families and your inspector!
Fire Drill & Safety Checks
Medication Administered
Safeguarding – Record of Concerns (Child Protection)
Existing Injuries
Visitors
Plus an attractive front cover for each logbook!
Further Details
All Logbooks and Forms are supplied as PDF Forms. Simply save to your computer then click in each area to enter information, or print out and fill in by hand.
Text in the Nursery version has been altered appropriately (the nursery, key worker, our service, we, us, etc.) If you require further small alterations to the text, please contact us as we may be able to assist you. Further customisation to form layout and content may also be available for an agreed fee. Please contact us with your requirements.
The download version of this pack is supplied as a ZIP FILE. Please see the FAQ page for further information.  
This item has been carefully designed to assist childcarers in meeting both English Ofsted and Scottish Care Inspectorate requirements!
NOTE: This item is also included in the following VALUE PACKS:
or…
Why not become a MindingKids member? PAY JUST £30 TODAY for UNLIMITED ACCESS to ALL our OUTSTANDING Resources!
Reviews
Thank goodness for Minding Kids! Brilliant Resource for Bright, Colourful, Straightforward paper work that was not questioned by my Inspector in fact she commented on how easy it was to review my work folders are and how nice the paperwork looked and took a note of this service.
Thank you for keeping my paper work neat, straightforward and easy for my Inspector to follow along with taking the stress out of creating a whole load of paperwork.
I will keep using Minding Kids to update paperwork and for information updates.
Great job & I can highly recommended you!
Thank you so much for your feedback Maggie! I am so glad to hear that you find MindingKids resources useful. The positive response from your inspector is also wonderful, I am pleased our resources helped you to impress! Please do keep in touch and let me know if there is anything at all you would like me to create or help you with.
Kindest Regards
Cheryl
MindingKids
You must log in and be a buyer of this download to submit a review.