Create comprehensive Learning Journals for every child in your care. Observe, record and share information about children's learning and development progress, then plan next steps to encourage and promote learning. Suitable for childminders and ALL Early Years settings!
Suitable for childminders and ALL Early Years settings – 3 versions available for providers based in

Scotland

,

England

or

Wales

!
Create comprehensive Learning Journals for every child in your care.
 ✔ EYFS  ✔ Realising the Ambition  ✔ Curriculum for Excellence  ✔ SHANARRI  ✔ Foundation Phase
Registered child care providers must regularly monitor and assess children's learning in order to recognise children's progress, understand their needs, and to plan activities that will best support their development.
The documents in this pack will assist you in OBSERVING, RECORDING and SHARING progress whilst also PLANNING the next steps to encourage and promote learning.
Supplied as PDF Forms, this resource can be

completed and shared digitally

using a computer, tablet or smart phone OR printed out and completed by hand.
Choose to use ALL of the Pack or select only the sections you need

 

to best support progress for each individual child. – Keeping YOU in control of  information recording. 
Use each sheet individually, assemble together into a folder, or save digitally to keep a comprehensive learning portfolio.
Each version of the pack contains ALL of the following:
Refer to further information below for specific sections relevant to the Scottish, English and Welsh versions. 
⭐Learning Journal User Guide
Read the comprehensive user guide for further details of how each section of the resource pack can be used.
⭐Front Cover
Select for a boy or girl. Apply a photo of the child to the front cover or help them draw or colour a picture of themselves to further personalise their Learning Journal.
⭐Learning Journal Review Plan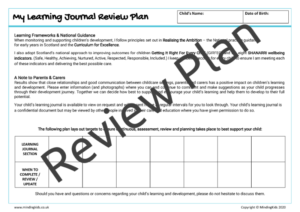 Provide parents with information regarding their child's learning journal and plan when you intend to review or update each section.
⭐All About Me
Versions for 0 to 3 years and 3 years + provided. Ask parents to complete with child at home to collect important information and details which may influence a child's learning and development. E.g. Family details, likes and dislikes, fears, general health, abilities, behaviour issues, etc.
⭐Development Review & Planning
Use at regular intervals throughout the year to monitor each child's development and regularly review progress so as you can plan the next steps to support their development. Sheets provided for Starting Points / Initial Assessment, Development Review and Support My Progress – brainstorm ideas and give parents inspiration of how they can support their child's learning at home.
⭐Learning Folder Insert Sheets 
Use regularly to record developmental milestones or add notes, photographs, drawings, etc. about activities children have been involved in, under each of the learning framework areas. Blank titled sheets for each learning area are provided OR use the learning area aspect or detailed outcome sheets to review progression in more detail.
Relevant variations are provided for each version of the pack, e.g.  EYFS (Development Matters and Birth to 5 Matters), Realising the Ambition, Curriculum for Excellence, Foundation Phase. 
IMPORTANT: The Outcome Sheets should not be used as tick lists. The outcomes are listed to help remind you and parents of the types of development milestones to be looking for within each learning area and to assist in making best-fit judgements about whether a child is showing typical development for their age, may be at risk of delay or is ahead for their age. Children should not be expected to meet every single outcome.
⭐Observation Report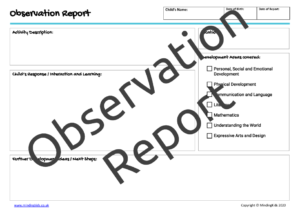 Use these sheets to record how a child responds to, learns from, or behaves during a specific activity or task. Tick which areas of development have been covered.
Completed examples included for each section.
Please note that the example images shown above show a selection from the Scottish, English and Welsh version of this pack. Each Learning Journals Pack will include sheets to support the relevant learning framework. See further details below: 
Scottish Learning Journals Pack
Designed to assist childcare providers registered in Scotland with following principles set out in Realising the Ambition – the National practice guidance for early years in Scotland, the Curriculum for Excellence and Scotland's national approach to improving outcomes for children – Getting It Right For Every Child (GIRFEC).
Also Includes SHANARRI Sheets to add notes, photographs, drawings, etc. about activities children have been involved, under each of the SHANARRI Wellbeing Indicators.
English Learning Journals Pack 
Supports the EYFS 2021 Statutory Framework! 
Designed to assist childcare providers registered in England follow the Statutory Framework for the Early Years Foundation Stage (EYFS). Optional insert sheets are provided that reflect the non-statutory guidance Development Matters and Birth to 5 Matters.
Also Includes:
Characteristics of Effective Learning Observation Sheets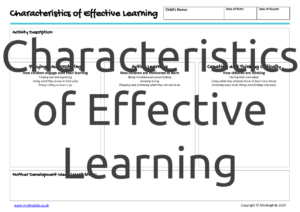 Describe in further detail how children go about a certain task and how they learn. Use this information when thinking about the next steps, how can you best plan further activities that complement each child's preferred way of learning.
PRIME AREA Checkpoint and Early Learning Goal Review Sheets 
Use these sheets to check development progress against Development Matters Prime Area Checkpoints (Age group and Learning Area sheets are provided).
For reception aged children, use the relevant Prime and Specific Learning area sheets to assess development against the EYFS 2021 Early Learning Goals.
Click into the sheets to mark development level as 'Emerging', 'Developing' or 'Secure' or print out to complete by hand.
Add review dates and additional comments as desired.
Welsh Learning Journals Pack
Designed to assist childcare providers registered in Wales follow the National Minimum Standards for Regulated Childcare for children up to the age of 12 and the Foundation Phase.
Includes Learning Folder Insert Sheets for both Compact and Full Profile levels of assessment:  0 to 2 years – Bronze, Silver and Gold and 2 to 5 years – Foundation Phase Outcomes , 1, 2 and 3.
IMPORTANT INFORMATION ABOUT USING THIS PACK:
There is a large selection of pages within this pack but there is NO REQUIREMENT to complete every sheet for every child. Consider each child individually and how you can use the resources to assist in providing the best development support. Also think about what is an appropriate and manageable amount of learning and development recording. You may decide to use different strategies for each child depending on ages and stages, how often they attend your setting and whether or not they attend school or another setting. You may also choose to additional tools and resources to use alongside this pack.
However you monitor, record and share learning and development information, it is important to find a way of working that suits you as well as the children and families you provide care for.
Please see the Further Details tab above for file format and supply information.
NOTE: This item is also included in the following VALUE PACKS:
or…
Why not become a MindingKids member? PAY JUST £30 TODAY for UNLIMITED ACCESS to ALL our OUTSTANDING Resources!
Reviews
You must log in and be a buyer of this download to submit a review.
The download version of this pack is supplied as a ZIP FILE. Please see the Help page for further information.  
All of the forms in this pack are supplied as PDF Forms. You can choose to print them out and complete by hand or use your computer / tablet to enter information before printing or sharing digitally with parents.
If you find you cannot type information into PDF forms then you may require to install PDF viewer that permits the use of forms or use an online PDF filler. There are several free options available. You can find further information on how to fill and sign PDF forms on the Adobe website.