Childminder Assistant Employment Pack
Comprehensive pack for childminders, nurseries or other childcare settings to assist with recruitment and staff management.
✔ Advertisement and Recruitment Resources
✔  Interviews, Induction Checks and Contracts
✔  Staff Care Plans and Health Questionnaires
✔  Staff Policies, Procedures and Risk Assessments
✔  Information for Parents / Working with Assistant Permission
✔  Staff Appraisal Form
✔ Record of Work and Payslips
AND MORE!
Includes NEW Assistant Risk / Benefit Assessment!
Do you already employ staff in your setting or are you considering taking on an assistant?
Are you filling up spaces fast or needing an extra pair of hands?
This Comprehensive pack contains everything you need to successfully recruit and manage staff
and help with meeting your legal requirements as an employer!
Suitable for use by childminders, nurseries and other childcare settings!
Whilst this pack has been designed primarily for childminders who employ assistants, it may also be useful for nurseries, school clubs or other childcare settings. The majority of the documents included are editable, however, should you require further assistance to adapt any of the resources to meet the requirements of your setting, please do not hesitate to contact us. 
There are several benefits that employing an assistant can bring to your childcare service but along with taking on staff comes more legislation and requirements.
Not sure where to start?
This pack will help you understand what you need to do and support you with the paperwork requirements, leaving you with more time to concentrate on finding the best person for the job!
Simply edit the templates as you require to suit your own business!
Includes all of the following:
Information and User Guide
Includes the benefits of taking on staff and outlines the criteria that must be met.
To assist with recruitment and new staff procedures:
*NEW Risk / Benefit Assessment – Confirmation that you have carried out a risk assessment is often required when adding an assistant to your registration. Use this editable template to help identify and minimise any risks whilst also acknowledging the benefits an extra pair of hands will bring.
Job Advertisement – Put together a job advertisement to help put the word out that you are looking for a new assistant. Edit to suit your requirements then print and ask to display on local noticeboards, in shop windows or create an image with your advert to post in a suitable social media group.
Job Application Form – Have an application form ready for any enquires to your job advertisement. Use the application to obtain essential information about the applicant and to determine whether or not they might be a suitable candidate.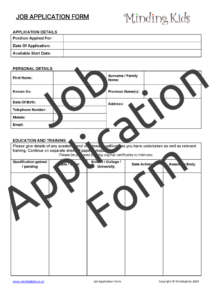 Job Description – Put together a comprehensive job description for the assistant role ready to provide alongside the job application form so as all candidates are clear on what the role entails.
Health Questionnaire – Determine whether potential candidates are fit and able for the job or whether they have any disabilities or health issues that could affect their ability to carry out their role. In accordance with UK Employment Law, equal opportunity principles must be applied throughout the recruitment process.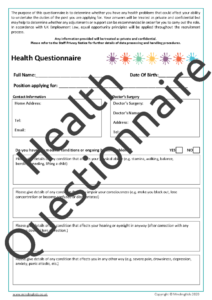 Letter Templates  – Write to applicants to let them know their application has been unsuccessful, or to invite them for interview, and once you have found your successful applicant, to offer them the job position. Further templates are also included for dismissing members of staff.
Interview Questions – Be prepared with a set of questions ready to ask candidates that you invite for interview. Learn about previous experience, strengths, weaknesses and how they might handle certain situations that may arise in your setting.
Contract of Employment – Prepare a formal contract of employment for your new assistant clearly setting out the terms and conditions of employment / statement of particulars to provide extra protection under law.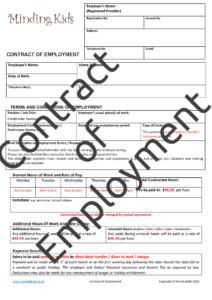 Self-Employed Assistant Agreement *NEW – If you are taking on your assistant on a self-employed basis use this assistant agreement template to clearly set out the terms and conditions of the agreement / statement of particulars.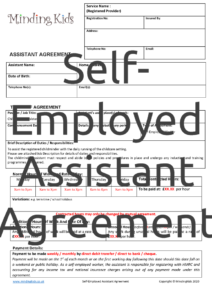 Induction Checklist – Have an adequate induction procedure in place to ensure all checks and formalities are complete ready for your assistant to begin work. Ensure that important procedures are discussed and check that basic training is provided in order for your new member of staff to begin their role.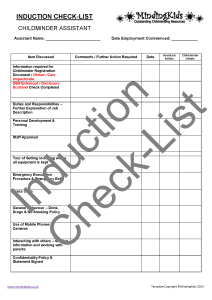 To assist with setting and staff management:
Staff Handbook *NEW – Ensure all new and existing staff are clear on service procedures and what is expected of them as members of staff. Make sure everyone understands the aims and objectives of the setting, how they can assist in achieving them, and how you will support your staff in their role and future ambitions.
Staff Care Plan *NEW – Collect essential information about the general health of your staff, any medical conditions, allergies, additional support requirements and whom may be contacted in the event of an emergency.
Working with Assistants – Information for Parents – If you already work with assistants or intend to start doing so, parents must be informed. For safeguarding purposes and under General Data Protection Regulation (GDPR) they must be made clear on your recruitment procedures and the processes in place to ensure the safety and wellbeing of children.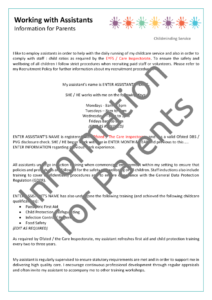 Working with Assistants – Permissions Form – Before an assistant can be left unsupervised with children (for a maximum period of up to two hours) you must obtain written consent from parents.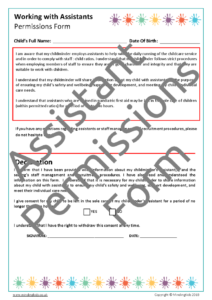 Staff Profile – Complete this staff profile sheet to provide alongside the permissions form or display in your setting to share information about your new assistant including their qualifications, experience and training. Update staff profiles regularly as they complete new training and achievements.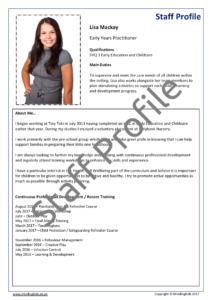 Childminder Assistant – Appraisal Form – Use this appraisal form template to help structure regular appraisal meetings with your assistant to discuss their performance and progress. Keep these records as evidence that you regularly monitor and assess staff performance and plan ahead for their future training and skills.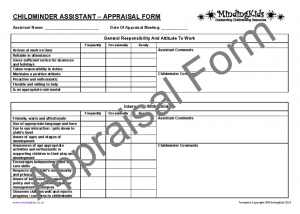 Staff Policies:
Edit the templates provided and issue to all staff members to clearly communicate the procedures that must be followed in certain situations. Templates are provided for:
Staff Wellbeing Policy *NEW
and Pregnant Staff Member Risk Assessment 
Staff Disciplinary Procedure
Whistle-Blowing / Raising Concerns Policy
To assist with work records and payment procedures:
Staff Record of Work – Use these templates to allow your assistant to keep a record of their hours of work including arrival and departure times each day and any times when they are left in sole charge of children – a necessary safeguarding requirement. Accurate records will help you ensure your assistant's wages can be calculated accurately.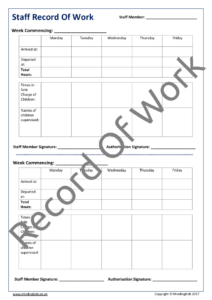 Pay Slips – Create pay slips to issue to staff each week / month detailing their hours of work, payments, deductions, tax and national insurance contributions and remaining holiday entitlement. Version for self-employed assistant also included.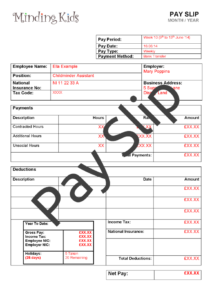 The images shown for each resource show a small selection of what this pack contains. Many of the full documents are made up of 3 or 4 pages.
Please see the Further Details tab above for file format and supply information.
DISCLAIMER
Whilst MindingKids endeavours to keep the information in our products up to date and correct, we make no warranties of any kind. It is the responsibility of each individual childcare provider to ensure that they comply with relevant legislation and requirements.
CUSTOMISATION SERVICE
Looking to further personalise the templates and add a professional touch to your service documents? MindingKids can help you add your business name / logo or make small wording changes to the templates and forms as you require.
This customisation service is FREE to all MindingKids Members or can be purchased as an additional service.
Simply email us at contact@mindingkids.co.uk with details of the customisation you require.
Logos can be applied to replace where the MindingKids logo appears on the templates of this pack.
Logos must be provided in png or jpeg format. Requests for customisation will be dealt with on a first come first served basis and emailed out on completion.   
Interested in even MORE Outstanding Resources?…
Why not become a MindingKids member? PAY JUST £30 TODAY for UNLIMITED ACCESS to ALL our OUTSTANDING Resources!
Reviews
You must log in and be a buyer of this download to submit a review.
The majority of templates in this pack are provided as Microsoft Word documents and are all entirely editable. Amend or add to the templates as you require to suit your business and circumstances.
Some forms such as the Staff Care Plans, Health Questionnaire, Record of Work sheets and Permission Form are supplied as PDF Forms. These can be printed out and completed by hand or information can be entered using a computer / tablet before printing, saving or sharing digitally.
If you find you cannot type information into PDF forms then you may require to install PDF viewer that permits the use of forms or use an online PDF filler. There are several free options available. You can find further information on how to fill and sign PDF forms on the Adobe website.
If you require assistance to edit or amend any of the templates or forms within this pack to suit your needs, please contact us and we will do our best to assist.
The download version of this pack is supplied as a ZIP FILE. Please see the Help page for further information.
DISCLAIMER
Whilst MindingKids endeavours to keep the information in our products up to date and correct, we make no warranties of any kind. It is the responsibility of each individual childcare provider to ensure that they comply with relevant legislation and requirements.