INCLUDES Yearly and Academic Activity Planners!
Comprehensive Activity Planning Pack to brainstorm ideas and plan activities around a topic or theme
Plan around each area of development for the week, fortnight or month.
Supplied as PDF forms, you can type in the information required or, if you prefer, print out and fill in by hand.
Also suitable for NURSERY settings!
This pack contains 

all

of the following:
Front Cover

Activity Planning Sheets
Brainstorm and plan activities for each area of development
List resources
Add further/future ideas
Evaluate how activities have gone and what the children have learnt
Completed examples to show you how (SPRING, SUMMER, AUTUMN & WINTER)
Completion Guide & Activity Ideas Sheet
Guide on how to complete the planning sheets and ideas for the types of activities to include under each area of development.
Activity Timetable
Plan activities around your week
Show the variety of activities you provide. Colour code if you wish to link to each area of development. (A Microsoft Word version of this file is included should you wish to colour code using your computer.)
Completed examples for SPRING, SUMMER, AUTUMN & WINTER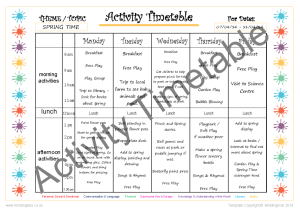 Topic/Theme Idea List
Further ideas for themes & topics
Yearly and Academic Activity Planners
Plan out topics/themes for the entire year / academic year – or note down as you go to remind you of what you have covered
List of special dates and festivals with room for your own birthdays or special events
Completed examples included
Further Details
The Activity Planning Sheets, Activity Timetable and Activity Planners are supplied as PDF Forms. Simply click in each area to enter information or print out and fill in by hand. The Activity Timetable is also supplied as a Microsoft Word document. All other files in the pack are standard PDF files (cannot be edited).
The download version of this pack is supplied as a ZIP FILE. Please see the FAQ page for further information.  
This item has been carefully designed to assist childcarers in meeting both English Ofsted and Scottish Care Inspectorate requirements!
Interested in a number of resources?…
Why not become a MindingKids member? PAY JUST £30 TODAY for UNLIMITED ACCESS to ALL our OUTSTANDING Resources!
Reviews
I have been a member for a while now, and I must say theses products are fab, they have help me no end with paperwork side of things. I would definitely recommend this site to other's. I would like to thank you for all your hard work that goes in to this to help other's
Hi Joanne
Thank you very much for your positive feedback. I am delighted to hear how MindingKids Resources are helping others. I really appreciate your support. Please do let me know if there is anything at all you would like me to create for you. Kindest Regards, Cheryl x
You must log in and be a buyer of this download to submit a review.