Our seasonal news updates summarise the latest childcare news plus which Minding Kids resources have been added or revised so you can easily keep on track and up to date.
Although the weather has been somewhat autumnal, we are in fact approaching the end of Spring and HOPEFULLY the end of coronavirus restrictions too!
The last year has been such a challenge for all of us on so many levels and I take my hat off to each and everyone of you for working so hard and supporting families through such a difficult time.
Hello and Welcome to all our new visitors, and a MASSIVE THANK YOU to all of our loyal members, customers and followers for your ongoing support!
Whether you are just starting out in the world of childcare or have years of experience, we hope that find something on our website to help you on your journey.
So in childcare news…
😷Coronavirus Guidance
As restrictions continue to be eased across the country, it is vital that we still stay alert and follow guidance in our settings to minimise risk.
Guidance for childminders in Scotland can be found here and ELC providers here.
Guidance for education, childcare and children's social care settings in England can be found here.
Guidance for childcare providers in Wales can be found here.
And guidance for childcare providers in Northern Ireland can be found here.
Current guidance advises that we should continue to permit only essential visitors to our settings and ensure a system of controls are in place to minimise risk with any external contacts.
Download our FREE Coronavirus Visitor Notice to display at the entrance of your setting to make clear your policy on visitors and ensure that everyone is aware of the safety measures in place.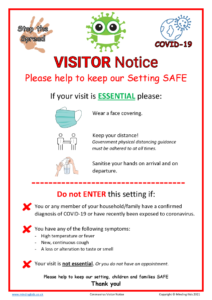 💷Tax-Free Childcare going unused
Recent figures from HMRC have revealed that less than half of parents with a tax free childcare account are actually using it. Use of the scheme dropped significantly in March 2020 when Covid-19 restrictions were first introduced. Whilst numbers have been steadily increasing again since the beginning of the school year uptake of government support towards the cost of childcare remains significantly low.
It is important that we make families aware of what help is available to them, particularly at a time when so many are struggling on a lower income due to the impact of the pandemic. Increasing awareness of support may also help you to fill spaces within your setting that some families wrongfully believe they are unable to afford.
Direct parents and carers to the Childcare Choices website to make sure they understand what help may be available to them.
The Money Saving Expert website also has some useful information on help with childcare costs and the options available in each part of the UK.
👩🏾👳🏻‍♂️Free Anti-racism and inclusion Guide
New guidance has been launched to support early years providers in nurturing open and inclusive attitudes in young children. The murder of George Floyd in 2020 and the expansion of the Black Lives Matter campaign across the world has emphasised the damage of racism and it's impact on society. As childcare providers we have a responsibility to promote inclusion and an opportunity to help educate children from an early age. The guide provides ideas and inspiration on how to create an inclusive early learning environment and how to talk to children about diversity as well as addressing our own anti-racist behaviours and the importance of getting to know the communities in which we work.
Find out more and download the Free guide here.
🌼Spring Stem Activities
Spring is a great time of year to look at introducing more STEM activities. As the weather improves, we can get outdoors and explore the wonders of nature and the world around us. There are endless possibilities to learn about flowers, plants, trees, insects, wildlife, weather, water, lifecycles and so much more!
What is STEM?
STEM stands for Science, Technology, Engineering and Maths, subject areas that are aligned with children's natural curiosity and that are so important for encouraging a love of learning in relation with the modern world.
You can find loads inspiration for STEM activities to try in your setting on the following websites:
The Royal Institution – Science Lives Here
And you can watch this inspirational video from the SCMA about STEM in childminding settings.
For providers registered in Scotland (Care Inspectorate)….
😷COVID Support Resources for schools and childcare settings
The Scottish Government has released new resources to help schools and childcare settings encourage safe behaviours by families and reduce coronavirus transmission. The collection includes PDF notices and posters that can be printed and displayed or shared via email and social media resources with suggested text and images to support communication.
The collection can be downloaded from WeTranfer here.
If you employ staff or assistants this training animation is useful to reinforce public health guidance.
🙌Changing perceptions of childminding
Following on from the Scottish Government's action plan for childminding – Our Commitment to Childminding in Scotland, the Scottish Childminding Association has launched a new three year strategy that aims to change how parents, policy makers and the wider public view childminding.
SCMA's Chief Executive, Graeme McAlister explains that "There is often a misperception that childminding is somehow a "lesser" form of childcare" whilst evidence shows that "Childminding consistently achieves higher quality ratings" and can have "many additional benefits" compared with other providers.
In their strategy document 'Changing the Narrative – Strengthening Childminding, Supporting Families and Increasing Choice' the SCMA have set out their commitment to change perceptions and to support childminders as we emerge from the pandemic and move forward.
Read more about the three year strategy and on the SCMA website.
🏞 Out to Play – Updates
Three new chapters have been added to the Out to Play guidance to support providers in ensuring children have the opportunity for regular, active and inspiring outdoor learning experiences. The new chapters cover supporting children with additional support needs and specific guidance for childminding and school aged childcare services.
Find the updated guidance here.
You can find lots of information and resources on the Inspiring Scotland website to help children to Thrive Outdoors!
And don't forget to download our FREE Outdoor Play Activity Ideas Sheet for more outdoor learning inspiration.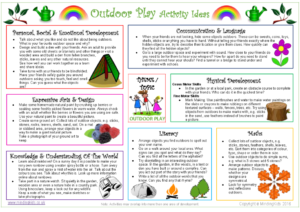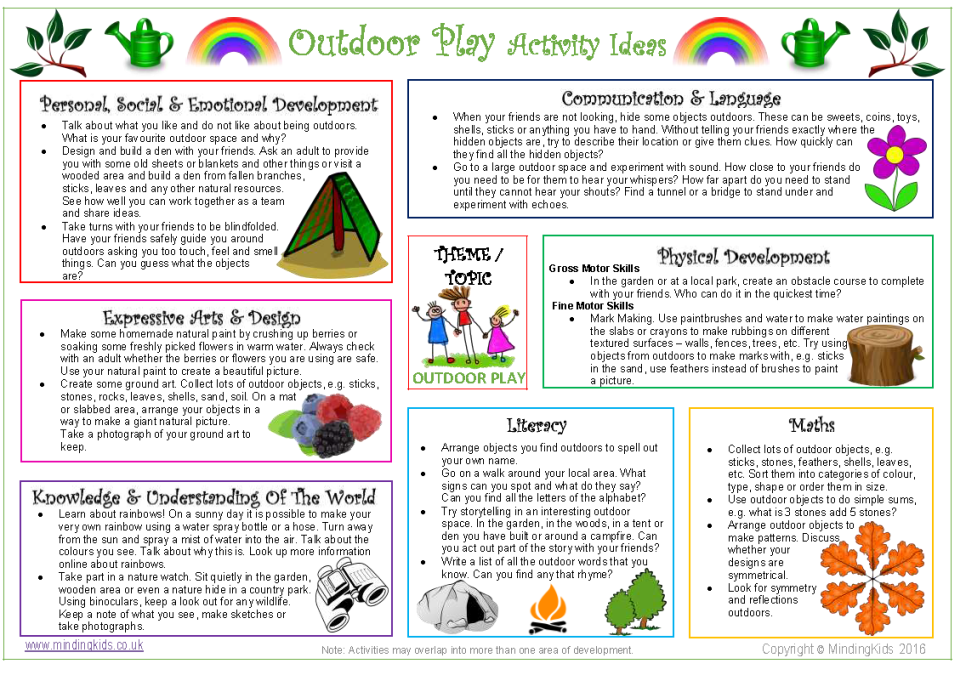 🥛Scottish Milk and Healthy Snack Scheme
A scheme named the Scottish Milk and Healthy Snack Scheme is being introduced in August with an aim to ensure as many pre-school children as possible have access to milk and healthy snacks. The new scheme will replace the existing UK Nursery Milk Scheme and will be available to eligible childcare settings which are registered with the Care Inspectorate including childminders. Funding will be granted via local authorities and will enable childcare providers to provide cow's milk (or an alternative to suit dietary requirements) and a healthy snack portion ( of fruit or vegetables) to pre-school children who are in registered day care for 2 hours or more.
Eligible childcare settings are being encouraged to register for the scheme as early as possible so as access to the funding can be made available on time.
Find further information and how to register on the Scottish Government website.
And find more Healthy Eating Inspiration for your setting in our Healthy Eating Pack!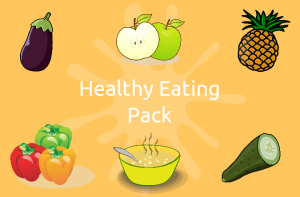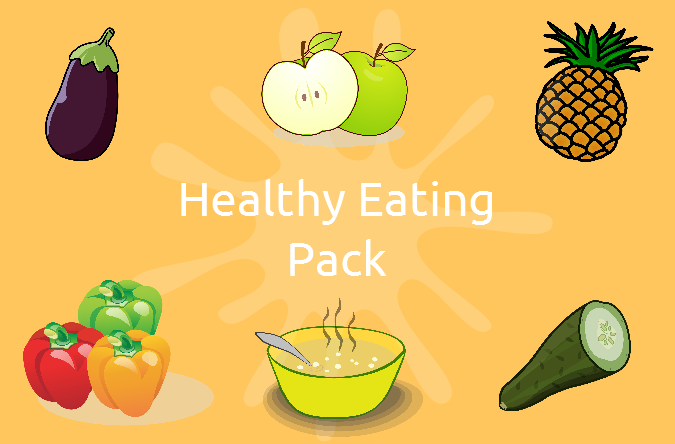 For providers registered in England (Ofsted)….
📝EYFS 2021
The final version of the revised EYFS was published at the end of March and will become statutory for all early years providers from September 2021.
The main changes are:
The educational programmes or otherwise referred to as the 'early years curriculum' have been re-written with more detail provided for each of the 7 areas of learning.
A new focus on early language and extending vocabulary
A new requirement to promote the good oral health of children
Changes to the Early Learning Goals to make them clearer and more specific (Pre-reception providers do not need to use the early learning goals)
Development Matters, the non-statutory guidance has been shortened and simplified to allow providers more freedom to develop and deliver the curriculum in the best way for the children they care for.
More focus on providers using their own professional judgement, knowledge and experience to measure progress rather than tracking against the early learning goals or age bands.
You can find a summary of the changes here and help to prepare for the new EYFS is available on the government website here.
Minding Kids is continuing to working on creating and updating resources ready for September.
Our EYFS (2 Year) Progress Check resource has already been updated and improved – the only statutory paperwork required in relation to children's learning and development.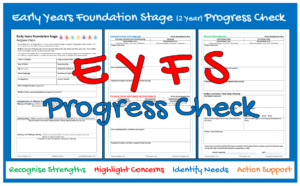 NEW EYFS 2021 Outcome Statements have been added to the Minding Kids App, allowing users to check children's progress against Prime Area Checkpoints and Observation Statements from the Development Matters guidance.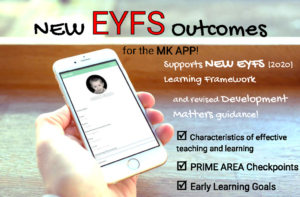 And last week we released our Updated and improved FREE Childminder Checklists which work through each section of the framework to better understand requirements and will allow you to ensure you have everything in place. The revised checklist now includes a summary sheet so as you can see everything listed on one A4 sheet and links to further Minding Kids resources to help with each item.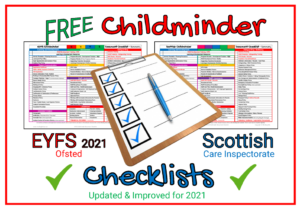 In addition, we are working on some updates to further learning and development resources including a NEW EYFS Development Log which will be based on the new Development Matters guidance and replace the current Early Years Outcomes Progress Tracker.
Whilst there is a clear and welcome shift away from paperwork and 'tick lists' providers will still need to be able to demonstrate that they know children well, understand where they are in their development in relation to the new EYFS framework and explain the methods used to support their progress. If keeping learning folders and tracking documents helps us to do this, communicate and share their learning with parents and also refresh our memories prior to inspection then I certainly believe that keeping development records is not a bad thing.
Now is a prime opportunity to revisit what you do and ask yourself what is beneficial to you, families and most importantly the children? What methods of communication and sharing information with parents are working best and allow you to enhance experiences and what are you doing that you feel takes too much time away from providing hands on quality care? Perhaps shifting to a digital solution will allow for greater efficiency, more flexibility and better organisation?
Whatever methods you use, make sure they work for YOU!
📚Learning and Development Guidance
There is a bit of confusion around development guidance and which is the best to use alongside the new EYFS.
In September 2020, The Department for Education (DfE) published Development Matters 2020 to be used as a curriculum starting point based on the revised educational programmes in the EYFS 2021. The guidance moves away from the previous design, which unintentionally became used as a tick list, and instead sets out pathways of children's development in broad ages and stages. It is possible that there will be further updates prior to September so keep your eyes peeled!
Find and Download Development Matters here
The final version of the new Birth to 5 Matters guidance was published at the end of March and was produced "by the sector, for the sector" by Early Education on behalf of the Early Years Coalition.
Some aspects within the guidance are arranged slightly differently from new framework, for example PSED is listed first ahead of communication and language and technology remains included whilst is has been removed from the new framework. It is however set out clearly and is very informative coming with its own interactive website, additional links and resources.
Find and Download Birth to 5 Matters here
Both of these guidance documents are non-statutory so it is not a requirement to use them although they will help to inform and guide how we can support children's progress in line with the new EYFS.
You may have a preference for one over the other or you may choose to refer to them both. Again, it is entirely your choice and prerogative to use development guidance that fits your way of working.
✍🏻Early Years Inspections
Prior to the on-site inspections resuming earlier this month, Ofsted published their updated Education Inspection Framework (EIF) and Early Years Inspection Handbook.
A new section on 'Inspection during the COVID-19 (coronavirus) pandemic' is now included. You will need to be prepared to demonstrate how your service has been impacted by COVID-19 and your response. Be prepared to answer questions on:
Whether you have applied any of the EYFS disapplications and the consequences of this.
What Covid-19 safety measures are in place to keep children, families and any staff you employ safe and include your control measures for essential visitors during the pandemic – i.e your inspector!
Any changes you have made to the curriculum / activities offered or how you have adapted your ways of working to ensure Covid-19 safety whilst minimising the impact on outcomes for children.
CPD and training – how you have accessed information and maintained professional development throughout the pandemic to ensure your knowledge is up to date.
How you have kept families (and staff) informed, followed government guidance and ensured your setting safety procedures are followed.
What additional support has been offered to children, families and any staff you employ, for example to assist with home learning, to promote wellbeing and to ensure the needs of all children are met.
Find the new Early years inspection handbook here
And a useful summary of the changes here
This blog from Sarah Neville of Independent Childminders covers the changes and describes in detail how to prepare.
Try using our Coronavirus Questionnaires to involve children, families and staff in evaluating the quality of care you are providing during the coronavirus pandemic and refer to our Coronavirus – How can I Help HOT TOPIC page for links to further guidance and resources.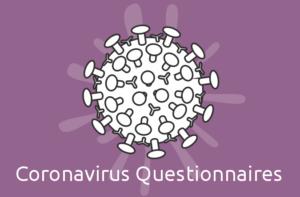 And at MindingKids…
👏Digital Boost Award
We are very proud to have been awarded a business grant from the Digital Boost Grant Scheme to put towards refreshing the website and making further improvements to the MindingKids App.
We have an exciting development agency on board and are brainstorming ideas to create the best solutions for our members and customers. It is likely that work will continue for several months behind the scenes as our experts catch up on reviving projects put on hold due to the pandemic, however we are confident that the outcome will be well worth the wait!
✨Resource Development Plans
Much of our recent work has been concentrated on refreshing some of our older packs and preparing for big changes such as the new EYFS framework.
With updates on track we are now keen to get our teeth into more setting inspiration and activity resources and introducing more STEM concepts to further support learning.
If you have any suggestions for topics or themes you would like covered, please let us know!
Since our Winter News Update the following resources have been added, updated or improved…
Remember Minding Kids Members have unlimited access to all Minding Kids resources immediately as they are added or updated! Click here for further details!
Coronavirus Support
Revised and Updated to reflect the latest government guidance and health advice:  
FREE Coronavirus Parent Information Sheet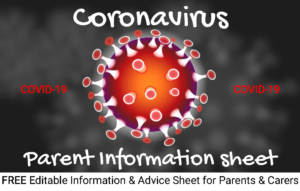 Share essential information about the Coronavirus, it's symptoms, where to find the latest government advice, and explain the procedures your setting will follow to minimise risk and disruption.
Coronavirus – How can I help HOT TOPIC – links to advice, guidance and resources to support childcare providers, children and families during the Coronavirus pandemic.
And as we begin to welcome more visitors to our settings we have added a FREE Coronavirus Visitor Notice!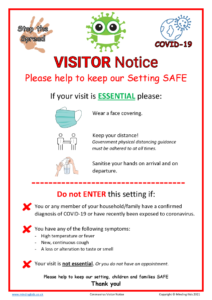 New and Updated Resources
Health and Social Care Standards Policy Links Resource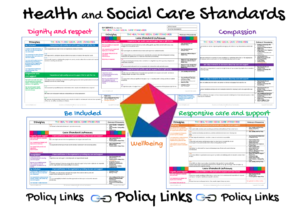 Check through your provision against each care standard outcome to ensure continuous improvement and high quality care.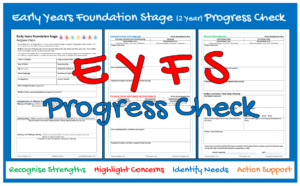 Updated & Improved – Ready for the NEW 2021 EYFS Framework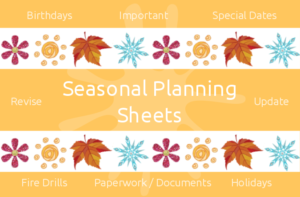 Ensure your setting is always up to date and ORGANISED – PLAN from SEPTEMBER 2020 to AUGUST 2022!
Realising the Ambition POCKET CARDS!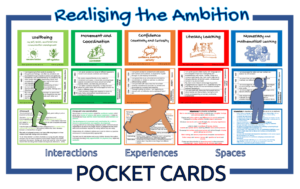 A quick and handy reference tool to the national practice guidance – Consider INTERACTIONS, EXPERIENCES and SPACES that help to shape learning
People Who Help Us Activity Pack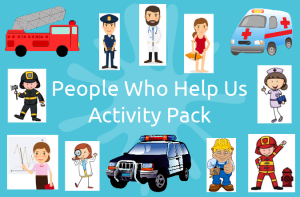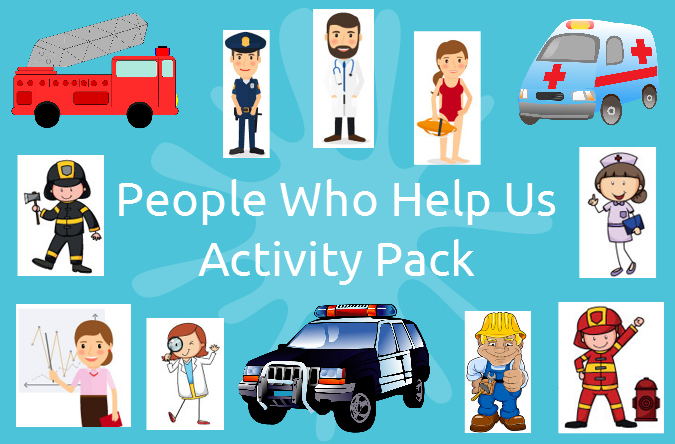 To celebrate International Nurses Day we added a a NEW All About Nurses Fact Sheet to our People Who Help Us Activity Pack!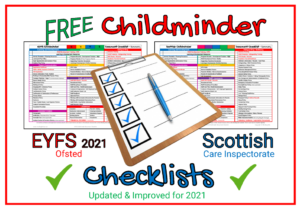 Now updated and improved for 2021! Including NEW Checklist Summaries!
⭐ Work through each of the Framework / Standards to better understand requirements and ensure you have everything in place.
⭐ Check you are up to date with the latest guidance and legislation.
⭐ Prepare for Inspection and SHOW how you deliver high quality care.
And we have added…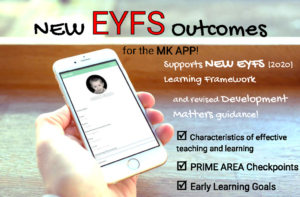 In preparation for the NEW EYFS Framework! Check children's progress against Prime Area Checkpoints and Observation Statements from the Development Matters guidance.
NEW⭐MK App Learning Framework Settings!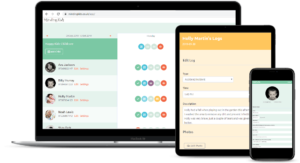 Our App users can now have greater control when recording development information! Choose from:
✔  EYFS (2017 and NEW 2021 options)
✔  Characteristics of Effective Learning
✔  Curriculum For Excellence
✔  GIRFEC / SHANARRI
✔  Realising the Ambition
✔  Basic Learning Outcomes
AND Coming Soon…
NEW Gaelic learner outcomes for Curriculum for Excellence Progress Tracker
NEW EYFS Development Log!
👀 Keep a look out on our NEWS Page for further details!
Thank you to all for your continued support! Keep safe and look out for more MindingKids News soon!
Many thanks! Cheryl & The Minding Kids Team! xxx