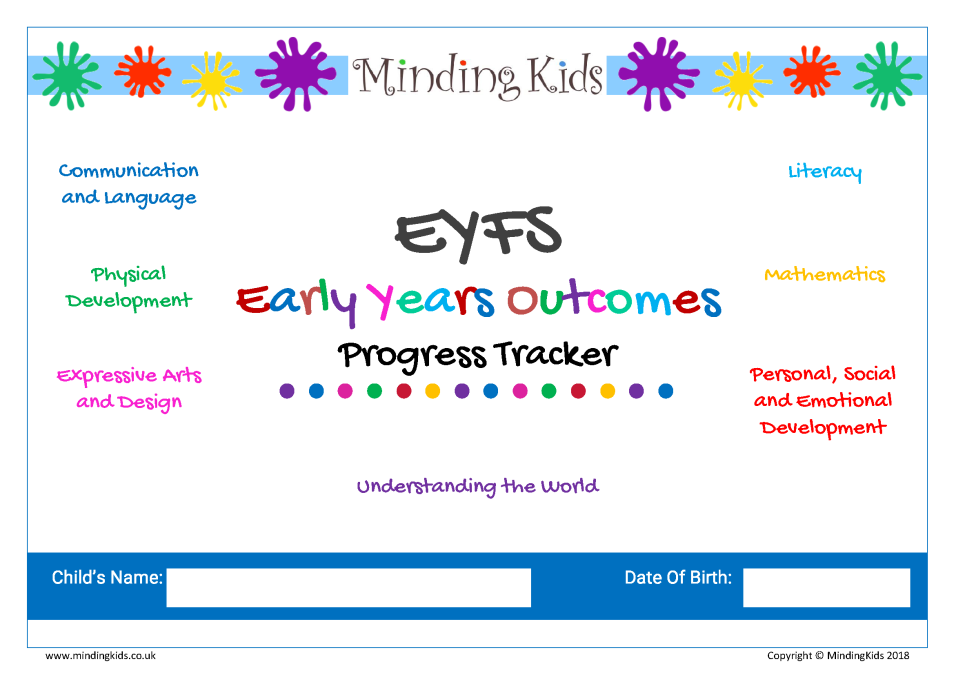 Early Years Outcomes EYFS Progress Tracker
Based on the Early Years Outcomes and covering the Early Learning Goals and Learning Areas of the Early Years Foundation Stage (EYFS), this Progress Tracker will enable you to monitor, track and share the development progress of children in your care.
Please refer to the FURTHER DETAILS tab for information about EYFS 2021 UPDATES!
This progress tracker is based on the Early Years Outcomes and covers the Early Learning Goals and Learning Areas of the Early Years Foundation Stage (EYFS).
Suitable for use by all Education and Care Providers registered in England including childminders, nurseries and teachers. – Providers registered in Scotland should refer to the Early Years CfE Progress Tracker. 
The resources in this pack will assist you with recording and tracking the development progress of children in your care. Perfect for monitoring and sharing progress with parents and also as evidence of how you are supporting children's development.
Example Pages:
Choose to complete as a full tracker booklet or as individual learning goals within the learning areas.
Lists Early Years Outcomes for each learning area which may be highlighted to mark skills or understanding that a child has displayed. It should be noted however that Early Years Outcomes should not be used as a tick list for assessment purposes but are useful to gather an overall impression of development progress in each area.
The tracker may be printed out and completed by hand or completed digitally using a computer, tablet or smart phone.
Mark each section with a red, amber or green spot to indicate whether a child is emerging, developing or secure in each early learning goal and development stage.
Also includes Front Cover, Review Summary Sheets, Examples and User Guide!
Further Details
The Early Year Outcomes EYFS Progress Tracker is supplied as a PDF Form. Simply save to your computer then click in each area to enter information. Refer to the user guide and examples in the pack for further information. Further details abut the use of PDF Forms can also be found on our FAQ page.
This item has been carefully designed to assist childcare providers in meeting English Ofsted requirements!
NOTE: This item is also included in the following VALUE PACKS:
or…
Why not become a MindingKids member? PAY JUST £30 TODAY for UNLIMITED ACCESS to ALL our OUTSTANDING Resources!
Reviews
You must log in and be a buyer of this download to submit a review.
PLEASE NOTE: This resource is currently being updated and improved ready for the NEW 2021 EYFS Framework – statutory for all Early Years providers in ENGLAND from September 2021! The existing format is still relevant to the current EYFS 2017 framework which applies until 31st August 2021.
⭐Minding Kids members can access the updated version as soon as it becomes available via their subscription.
✔Customers who have purchased this resource individually after 1st April 2021 may contact us to request a discount to the value of their original purchase on the updated product once it becomes available. Please note the cost of revised packs may be higher than the original product.
 📣 All updates will be announced on the News Page and via our Newsletter Emails. – Sign-up to receive these at the bottom of the page👇