Stuck on how to write risk assessments? This pack will save you hours of time!
Easily edit the assessments as you require to suit your own business.
This pack includes ALL of the following:
Attractive Front Cover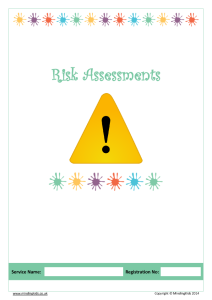 Risk Assessments for the Home or Childminder Setting
These risk assessments detail the risks in and around your home and are in table form showing which items are of high, medium or low risk and what action will be taken in order to minimize their potential. The risk assessments are fully completed and may already suit your setting…simply add to them or edit as you require.
Lounge
Dining Room
Playroom
Kitchen
Bathroom
Sleeping Areas
Hall & Stairs
Garden
PLUS a Blank Setting Risk Assessment for you to risk assess any other areas.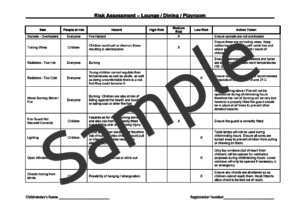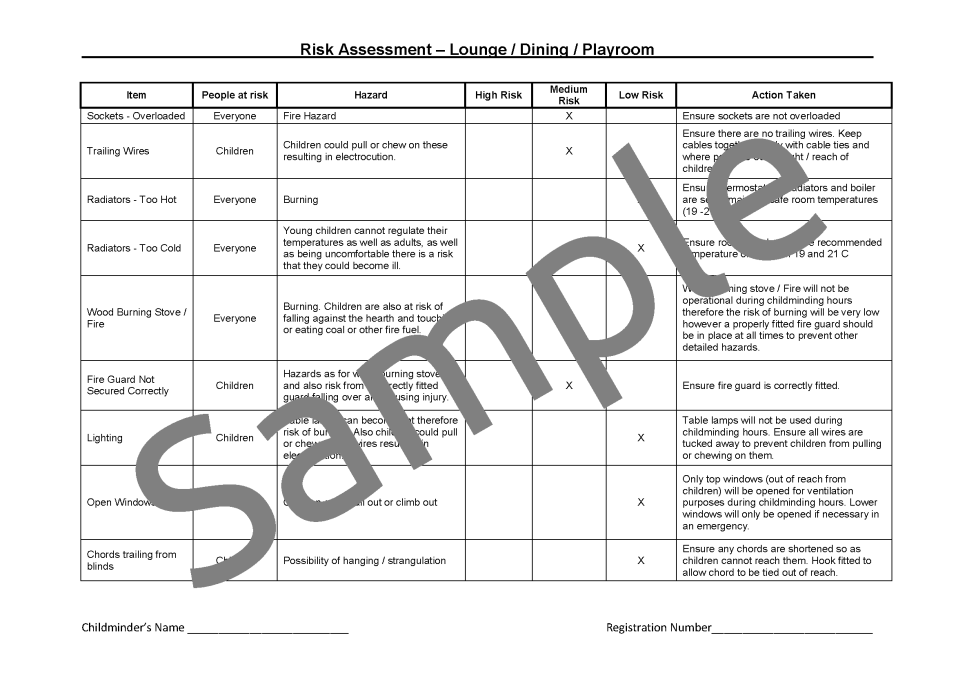 Risk Assessments for Outings
Use these templates to create your own outings risk assessments quickly and easily.
Playgroup
Soft Play
Park
Travelling – by car
Travelling – walking
PLUS a Blank Outing Risk Assessment for you to assess the risks of other places you visit regularly or intend to take children to on an outing.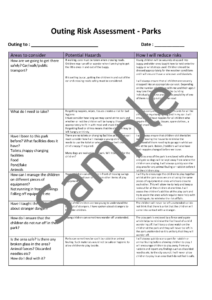 *NEW*

Pet Risk Assessment Template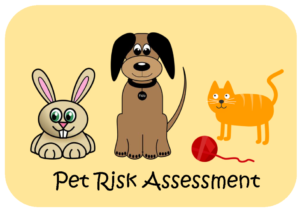 This template will help you to assess any additional risks and areas to be considered at a result of keeping pets at your setting. You may also find the Pet Policy Template within the Policies & Procedures Pack helpful.
*NEW*

Exception To Ratios Risk Assessment Template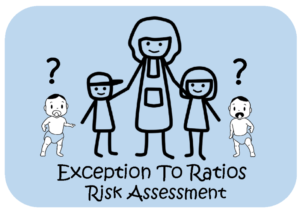 The majority of childminders are permitted to care for up to six children under the age of eight at any one time. Of these six children, a maximum of three may be young children and only one may be under 12 months old. There are however circumstances that can arise where childcare providers may want to request an exception to these ratios for example to provide care for sibling babies or to maintain continuity of care for children already attending the setting.  The notes within this pack explain such circumstances in further detail and the template risk assessment will help you to assess any additional risks that must be considered as a result of the exception.
Please note that in all circumstances, you will need to seek the permission for an exception to ratios from Ofsted / The Care Inspectorate and will need to demonstrate to parents/ carers and inspectors that the individual needs of each child can be met.
You may also find the Ratio Management Chart useful for helping to manage your ratios.
PLUS…
Daily Risk Assessments & Safety Checks Sheet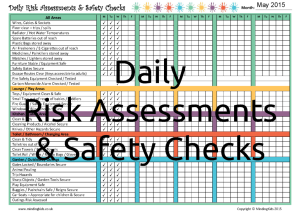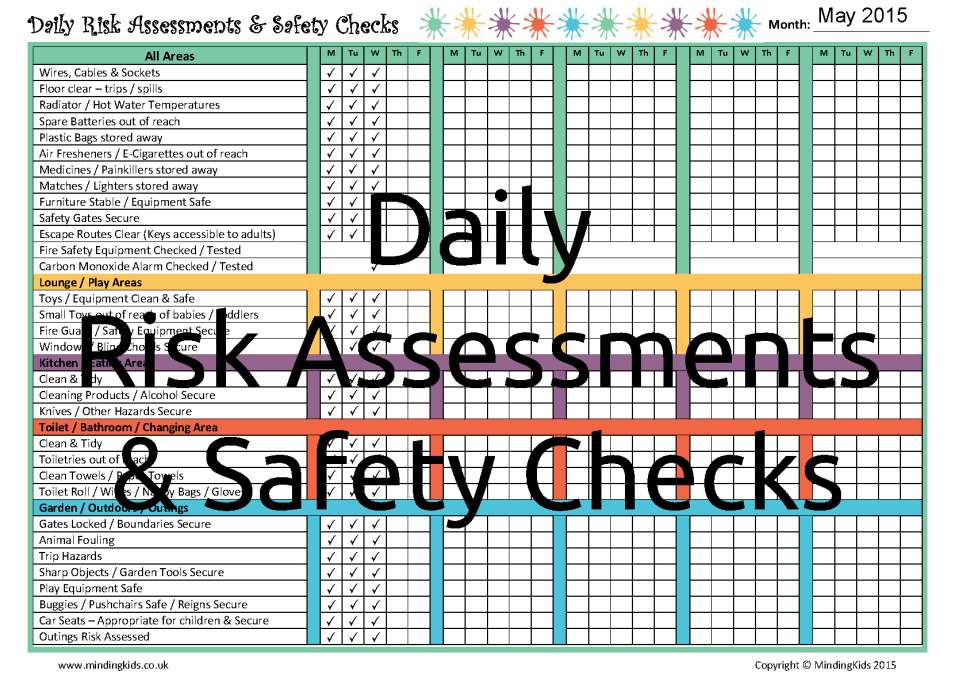 Use this check list to help you to ensure your setting is safe and hazard free every day.
On one handy A4 sheet you can record your daily risk assessment checks for the whole month for each area of your setting.
Supplied as a PDF Form you can use your computer or tablet to simply tick off each safety check or, if you prefer, print out and complete by hand.
Further Details
All Risk Assessments are Microsoft Word documents, simply save to your computer and edit as required. The front cover is supplied as a PDF.
The Daily Risk Assessments & Safety Checks Sheet is supplied as a PDF Form.
The download version of this pack is supplied as a ZIP FILE. Please see the FAQ page for further information.  
This item has been carefully designed to assist childminders in meeting both English Ofsted and Scottish Care Inspectorate requirements.
NOTE: This item is also included in the following VALUE PACKS:
Reviews
You must log in and be a buyer of this download to submit a review.