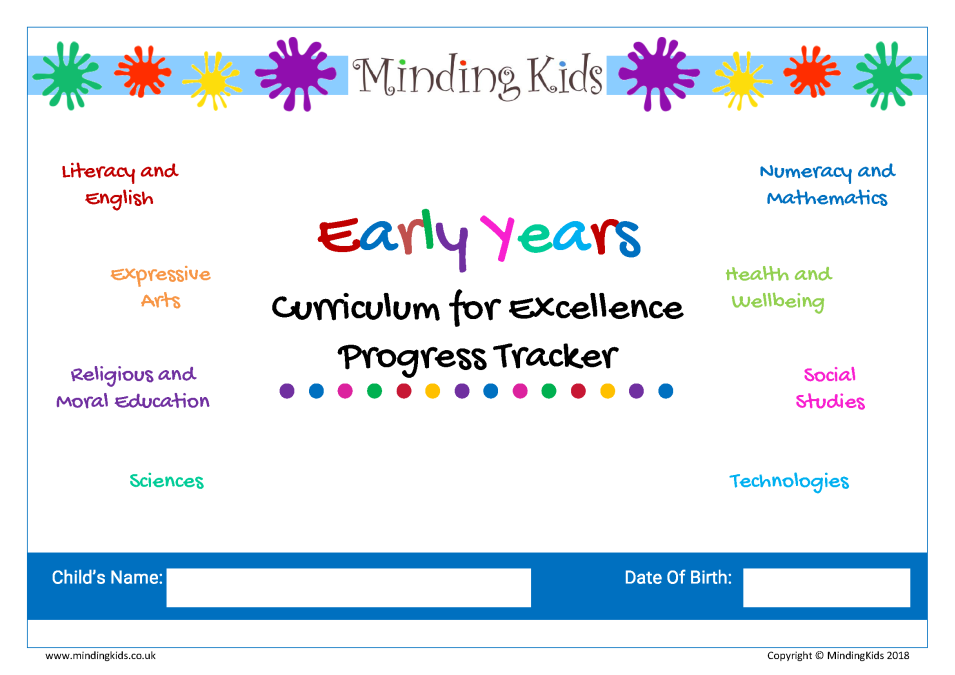 Early Years CfE Progress Tracker
Based on the Scottish Curriculum for Excellence this Progress Tracker will enable you to monitor, track and share the development progress of children in your care. Covers the outcomes and expected CfE BENCHMARKS for the Early Level. (Pre-school to Primary 1)
This progress tracker is based on the Scottish Curriculum for Excellence and covers the outcomes and expected benchmarks for the Early Level (Pre-school years and Primary 1, or later for some).
Suitable for use by all Scottish Education and Care Providers including childminders, nurseries and teachers. – Providers registered in England should refer to the Early Years Outcomes – EYFS Progress Tracker. 
The resources in this pack will assist you with recording and tracking the development progress of children in your care. Perfect for monitoring and sharing progress with parents and also as evidence of how you are supporting children's development.
Example Pages:
 
Choose to complete as a full tracker booklet or as individual sections within the curriculum areas.
Lists CfE Benchmarks for each curriculum area which may be highlighted to mark skills or understanding that a child has displayed. It should be noted however that benchmarks should not be used as a tick list for assessment purposes but are useful to gather an overall impression of development progress in each area.
The tracker may be printed out and completed by hand or completed digitally using a computer, tablet or smart phone.
Mark each section with a red, amber or green spot to indicate whether a child is emerging, developing or secure in each outcome and, if you wish, add further evidence of development progress and achievements. e.g. link to observation reports or contact diary entries.
Also includes Front Cover, Review Summary Sheets, Examples and User Guide!
Further Details
The Early Years CfE Progress Tracker is supplied as a PDF Form. Simply save to your computer then click in each area to enter information. Refer to the user guide and examples in the pack for further information. Further details abut the use of PDF Forms can also be found on our FAQ page.
This item has been carefully designed to assist childcare providers in meeting Scottish Care Inspectorate requirements!
NOTE: This item is also included in the following VALUE PACKS:
or…
Why not become a MindingKids member? PAY JUST £30 TODAY for UNLIMITED ACCESS to ALL our OUTSTANDING Resources!
Reviews
You must log in and be a buyer of this download to submit a review.