EYFS (2 Year) Progress Check
Complete a comprehensive EYFS (2 year) Progress Check for children. ✔ Comment on progress in each learning area. ✔ Highlight areas requiring further confidence and support. ✔ Propose strategies and ideas to support future learning both within the setting and at home. ✔ Create a Targeted Plan for specific concerns.
Supports the 2021 EYFS Framework – statutory for all Early Years providers in ENGLAND. 
In accordance with the requirements of the Early Years Foundation Stage Framework, practitioners must regularly monitor and assess children's learning in order to recognise children's progress, understand their needs, and to plan activities that will best support their development.
When a child is aged between two and three, practitioners must complete and provide parents and/or carers with a short written summary (Progress Check) of their child's development in the PRIME areas of learning: 
Communication and language
Personal, social and emotional development
Physical development
A selection of forms are provided in this pack that will allow you to put together the information required.
Supplied as PDF Forms, you can type in the information required or, if you prefer, print out and fill in by hand.
Assemble together into a progress check file, or save digitally to share with parents via email.
Whilst this resource has been designed primarily to assist in putting together the statutory Progress check at age two, the forms may be used at any stage within the early years to review and assess learning progress.
Purpose of a Progress Check
The purpose of a progress check is to recognise a child's strengths, any areas where progress is less than expected, if there are significant emerging concerns, or whether any special educational needs or disabilities have been identified.
Use the Progress Check to:
✔ Consider the Characteristics of Effective Teaching and Learning.
How children investigate and experience things, and 'have a go' (playing and exploring)
How children concentrate, keep on trying despite difficulties, and enjoy achievements. (active learning)
How children have and develop their own ideas, make links between ideas, and develop strategies for doing things (creating and thinking critically)
✔ Comment on the children's progress in each learning area and make an assessment as to whether their development level within each learning aspect as 'Less than Expected', 'On Track' or 'Advanced'.
✔ Highlight any areas requiring further confidence and support.
✔ Propose strategies and ideas to support future learning both within the setting and at home.
✔ Note any specific concerns and planned actions for future support, including whether a Targeted Plan is required.
Versions are provided with or without the

Specific Learning Areas

included – complete for all 7 areas of learning if you wish.
Add an optional cover sheet to include further information such as first language, current interests, learning styles and preferred schemas.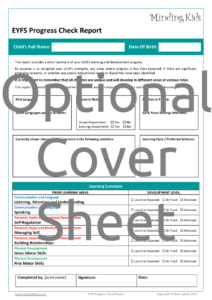 Where specific concerns have been highlighted, complete a Targeted Plan to focus future learning around planned targets considering strategies, resources and activities suited to the child's interests and learning style.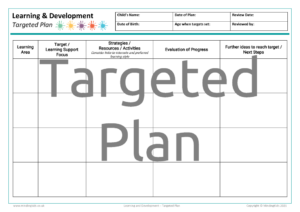 Completion Guide, Targeted Plan template AND COMPLETED EXAMPLES also included!
Please see the Further Details tab above for file format and supply information.
---
👉Visit our

Learning & Development

section for more resources and inspection to help observe, record and plan the next steps to support children's progress!
Reviews
You must log in and be a buyer of this download to submit a review.
The download version of this pack is supplied as a ZIP FILE. Please see the Help page for further information.  
All of the forms in this pack are supplied as PDF Forms. You can choose to print them out and complete by hand or use your computer / tablet to enter information before printing or sharing digitally with parents.
If you find you cannot type information into PDF forms then you may require to install PDF viewer that permits the use of forms or use an online PDF filler. There are several free options available. You can find further information on how to fill and sign PDF forms on the Adobe website.
DISCLAIMER
Whilst MindingKids endeavours to keep the information in our products up to date and correct, we make no warranties of any kind. It is the responsibility of each individual childcare provider to ensure that they comply with relevant legislation and requirements.