Easily work out your weekly, monthly and annual income and expenses using simple logsheets.
This comprehensive accounts pack contains all the logsheets you require along with a handy guide to help get your accounts in order.
Supplied as both Excel worksheets and PDF forms, you can choose to complete on your computer or tablet, or print out and fill in by hand.
This pack contains all of the following:
Guide to keeping your Childminding Accounts – informative guide with all you need to know about allowable expenses
Attractive Front Cover
Logsheets to record; Weekly, Monthly and Annual Income and Expenditure & completed examples
Annual Summary of Income and Expenditure Sheet
Example start-up costs sheet
Plus…
Excel Attendance Register
Simply enter attendance information for each child and these sheets will automatically calculate the hours attended for each child and what fees are due.
Choose from a variety of styles depending on whether you charge a daily fee or an hourly rate and whether you care for children who attend for full days or only for part (or parts) of the day. For example, school children who attend your setting for an hour before school, then again for a couple of hours later in the afternoon. If you care for a mix of both full day and part day children there is also a register which accommodates this.
As well as all of the above, you can also add in additional hours, discounts and deductions making calculations a doddle!
User instructions and completed examples are included.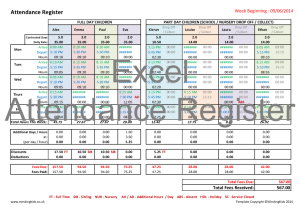 AND…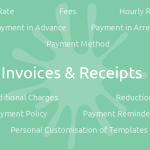 Create professional invoices and receipts for your childcare business. A vital resource to help keep your business finances in order. (Personal customisation of templates available on request!)
Click here for full details of the Invoices & Receipts Pack!
Further Details
All Logsheets are supplied as both Excel worksheets and PDF Forms and will automatically calculate any digitally entered information. Simply save to your computer then click in each area to enter information. Your weekly, monthly and annual income and expenditure will be automatically calculated for you! Simply 'save as' and create a fresh logsheet to record income/expenditure for a new week, month or year.
If you prefer to print out and fill in by hand, simply print out the PDF worksheets to complete.
The front cover and annual summary are supplied as a PDF Forms, simply click in each area to enter information.
The Excel Attendance Register sheets are supplied as Excel worksheets.
The guide, user instructions and example start-up cost sheets are PDF files which are non-editable.
Invoice and Receipt Templates are supplied as PDF Forms. Simply click in each area to add information or print out and complete by hand.
Late Payment of Fees Policy and Payment Reminder Letter templates are provided as Microsoft Word documents and are entirely editable.
The download version of this pack is supplied as a ZIP FILE. Please see the FAQ page for further information.  
This item has been carefully designed to assist childminders in completing their accounts and the information required for their annual self-assessment as required by HM Revenue & Customs.
NOTE: This item is also included in the following VALUE PACKS:
Reviews
You must log in and be a buyer of this download to submit a review.