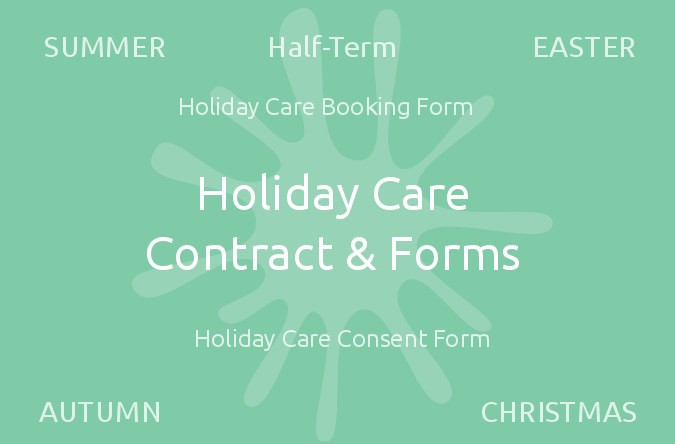 Holiday Care Contract & Forms
Everything you need to organise care sessions during holiday periods! Use the Holiday Care Booking Form to allow parents to reserve holiday care sessions, set out the terms with a professional Holiday Care Contract and obtain necessary consents and important information with the Holiday Care Consent Form.
Providing Holiday Care Sessions can be an excellent way of topping up your income…
you can fill spaces that would otherwise lie empty whilst term time only children are not in attendance.
you can offer extra hours to children who would normally be in school or attend nursery for part of the day.
you can provide holiday care camps to fill your spaces and introduce new families to your service.
However you manage your setting during the school holidays, it is important that you set out professional arrangements for all children… especially those who are not otherwise covered by a full time contract. 
This pack provides ALL of the following:
Holiday Care Booking Form
To allow parents to request the care sessions they require for their child during the holiday period.
Detail session times, charges, deadlines for making changes or cancellation plus add an activity timetable if you wish.
2 versions of booking form are supplied; one which covers up to 2 weeks of holiday care sessions and one to cover a 6 week period – perfect for the summer break.
Holiday Care Contract Form
Optional Customisation Option also available. Add your business name and logo! Refer to Further Details section below.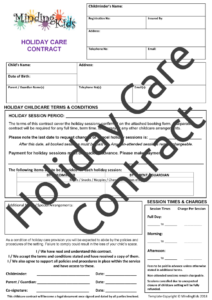 Set out the terms of a holiday care arrangement with this professional contract form. Ensure parents understand the terms of the agreement before signing including payment arrangements, any additional charges for outings or any other requirements.
Importance Of A Contract
A contract should be agreed at the beginning of any professional childcare arrangement to clarify, from the start, the terms and conditions between all parties involved. Childcare fees, charges and payment instructions can be set out clearly along with any other agreed special arrangements. A childcare contract is a legally binding document which provides protection for both parents and childminders and may be used in a small claims court, should either party wish to pursue legal assistance.
Holiday Care Consent Form
Before parents leave children in your care, it is vital that you obtain the necessary consents and information such as emergency contact details and other important information relevant to their child, for example; allergies, special dietary requirements, medical conditions or additional support needs. This form will enable you to collect this essential information whilst also giving parents the opportunity to provide you with further details about their child such as likes and dislikes, fears, favourite activities, nap times, etc, so as you can ensure their wellbeing and comfort.
Completed Examples For All Forms also included!
Further Details
All forms in this pack are supplied as PDF Forms. Simply save to your computer then click in each area to enter information, or print out and fill in by hand. Please see the FAQ page if you require further assistance using PDF Forms. 
Completed contracts may also be digitally signed if desired by using the 'Fill & Sign, Place Signature' option in Adobe Reader.
The download version of this pack is supplied as a ZIP FILE. Please see the FAQ page for further information. 
Customisation of Contracts
MindingKids can help you add your business name and logo to the Holiday Care Contract Forms or make small wording changes to the form as you require. This customisation service is FREE to all MindingKids Members or can be purchased as an additional service by selecting the customisation option. Following payment, simply email us at contact@mindingkids.co.uk with details of the customisation you require.
Logos must be provided in png or jpeg format. Requests for customisation will be dealt with on a first come first served basis and emailed out on completion.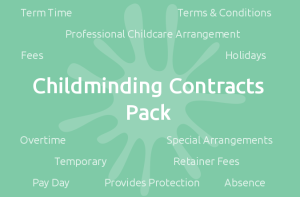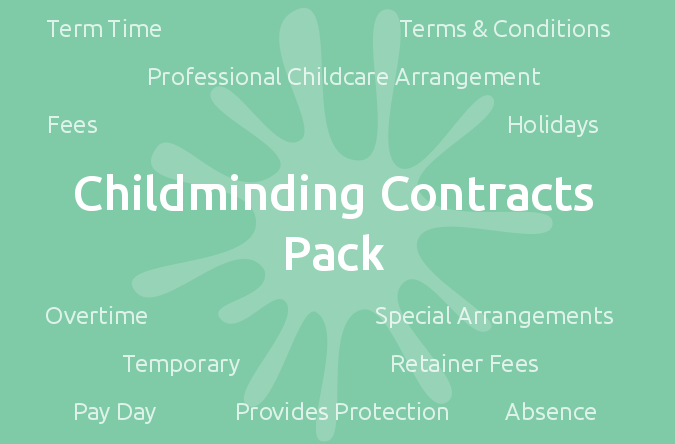 Set out professional childcare arrangements for all children in your care. Includes Retainer, Term Time / Holiday, Temporary and Funded Hours Contract Forms!
OR…
Fancy UNLIMITED ACCESS to ALL our OUTSTANDING Resources? Why not become a MindingKids member? PAY JUST £30 TODAY and you can get your hands on EVERYTHING!
You must log in and be a buyer of this download to submit a review.