As restrictions ease and inspections resume, we may begin to welcome more ESSENTIAL visitors to our settings.
It is important that we make clear our policy on visitors and ensure that everyone is aware of the safety measures in place.
Remind visitors to: 
Check whether their visit is ESSENTIAL or if they have an appointment.
Wear a face covering
Follow physical distancing guidance
Wash / sanitise their hands on arrival and departure
STAY AWAY if they are displaying symptoms or are known to have been in contact with any confirmed cases of Covid 19.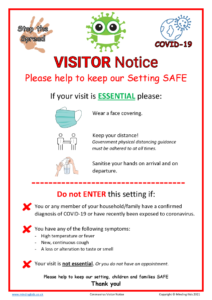 Visit our Coronavirus – How can I help HOT TOPIC for further links to advice, guidance and resources to support childcare providers plus ideas of how we can help families and children cope with the Coronavirus pandemic.