Following a continued suppression of the coronavirus figures, schools in Scotland and Wales are already welcoming back their youngest pupils, and schools across England are expected to re-open in just a couple of weeks.
As this will again increase the risk of community transmission as more families come into contact, it is vital that we remain vigilant and work together to reduce the risk of infection.
We have updated our FREE Coronavirus Parent Information Sheets  to help you share essential information and explain the procedures your setting will follow to minimise risk and disruption.
Updates draw particular attention to:
Drop Off and Collection Procedures including the wearing of face coverings
Limiting personal belongings brought from home
Additional safety measures that must be considered for School / Nursery Children and Blended / Wrap Around Care placements
Versions available for Scottish, English & Welsh providers – DOWNLOAD for FREE then Edit as you require to suit your own setting and circumstances!
Further COVID 19 Updates:
We have also made some minor revisions to our Coronavirus Policy template (included in the Policies & Procedures Pack) and to our Coronavirus Risk Assessment template (include in the Risk Assessments Pack)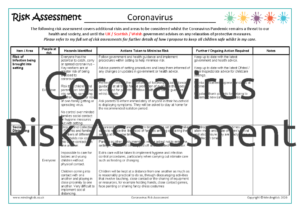 Visit our Coronavirus – How can I help HOT TOPIC for further links to advice, guidance and resources to support childcare providers plus ideas of how we can help families and children cope with the Coronavirus pandemic.