The coronavirus pandemic is impacting our world more than we could have ever imagined. As childcare providers we have a responsibility to help minimise the risk,  and protect and support children and families.
MindingKids has now created a dedicated HOT TOPIC page with links to advice, guidance and resources to support childcare providers plus ideas of how we can help families and children cope with the Coronavirus pandemic.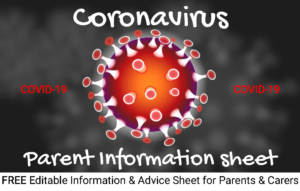 Download our FREE Coronovirus Information Sheet to share essential information about the Coronavirus, it's symptoms, where to find the latest government advice, and explain the procedures your setting will follow to minimise risk and disruption. Edit to suit your setting and circumstances.
Now UPDATED following school closures and government lockdown.
PLUS this FREE Fun Learning Links sheet connects to helpful resources and activity inspiration that will cover ALL areas of development.
Use within your own setting or share with parents to support further learning at home for bundles of fun activity inspiration!
AN EXCELLENT RESOURCE TO SUPPORT PARENTS DURING THE CORONAVIRUS PANDEMIC.
A message from the creator of MindingKids…
I appreciate that this is a very difficult time for everyone. The impact the pandemic is having within the childcare sector is a worry for us all and our families. I aim to do whatever I can to assist my members and customers through this uncertain period. If you have any suggestions or ideas of ways in which MindingKids can help, or information you would like to share with me, please do not hesitate to get in touch.
In preparation for return to 'normality' we will continue to create and update resources to assist you all with the  OUTSTANDING work that you do!
Your faithful colleague
Cheryl x