We are now halfway through week 2 of national school closures due to the Coronavirus Pandemic.
How are you all doing? We hope you and your families are safe and well. 💖
If you are open and providing care for key worker children you may find that you are now catering for a wider age group all at the same, or perhaps a slightly larger number of children. Keeping everyone entertained can be extremely challenging! 😬
If you are stuck for ideas or are looking to share some inspiration with parents in order to support 'home schooling' you should explore our FREE Fun Learning Links sheet for some simple learning through play opportunities.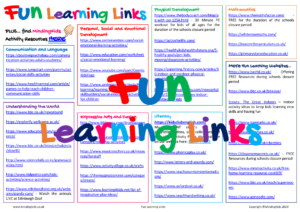 At this very worrying time, learning should be as relaxed and as fun as possible. Families should be encouraged to spend quality time together, play games, be silly and simply enjoy each other's company. Above all children need to feel safe and loved in this very unsettled time.
Take care everyone
Love and best wishes, Cheryl x
See our Coronavirus – How can I Help HOT TOPIC for links to advice, guidance and resources to support childcare providers, families and children cope with the Coronavirus pandemic.