During this very difficult time, we must not forget how children are feeling.
Whilst little ones may not truly comprehend the situation that is unfolding around us, they will still pick up on our own anxieties and may feel confused  and unsettled by huge changes to our daily routines. Listening to the news or to grownups talking about the spreading virus and it's impact on society is likely to be very frightening for children so it is vitally important that we are aware of this and do what we can to reassure them.
The World Health Organization has released this guidance to Help children cope with stress during the COVID-19 outbreak. 
As well as detailing different ways that children may respond to stress to look out for, the guidance reinforces the importance of routine, making time to play and relax, and also being open and talking to children about the situation using language that they can understand.
Useful advice to download, print and display in your setting or share with parents and carers.
Find the guidance sheet here. 
For children of school age, the Newsround website has some useful information, videos and guidance.
Plus these e-bug resources are useful for teaching children about hygiene.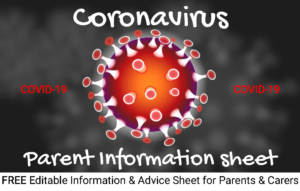 Share essential information about the Coronavirus, it's symptoms, where to find the latest government advice, and explain the procedures your setting will follow to minimise risk and disruption.
Now updated as per latest government advice – 16th March 2020.