Welsh Childminder – Legislation & Guidance List
FREE for Care Inspectorate Wales Registered Childminders in WALES
Ensure you are always up to date with guidance and legislation! Perfect for preparing for inspection…OR to regularly review and update your existing paperwork.
Updated and improved for 2021!
Please note this Legislation & Guidance List is relevant to Welsh childcare providers registered with Care Inspectorate Wales. Please click HERE for the English / Ofsted Legislation & Guidance List.  OR HERE for the Scottish / Care Inspectorate Legislation & Guidance List.
Do you ever struggle to keep up to date with the latest versions of legislation or get confused as to which guidance documents are current? This handy list will help you to instantly find up to date information!
Download for FREE

to quickly check that you have everything organised ready for inspection…OR use the list regularly review and update your existing paperwork.
NOW also Includes a handy Legislation & Guidance Chart!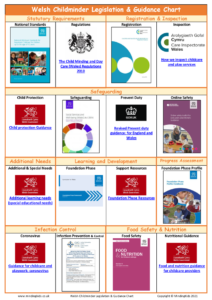 A quick and easy way to refer to relevant guidance!
Save to your childminding folder and click on the documents in the chart to instantly access the information you require!
Please see the Further Details tab above for file format and supply information.
Interested in MORE resources for your OUTSTANDING childcare service?…
Why not become a MindingKids member? PAY JUST £30 TODAY for UNLIMITED ACCESS to ALL our Resources!
You must log in and be a buyer of this download to submit a review.
The Legislation & Guidance List & Chart are supplied as PDF Files and are not editable.
This item has been carefully designed to assist childminders registered in Wales meet Care Inspectorate Wales requirements!