Be Ready to Showcase Your Setting and impress your inspector with this NEW Learning Walk Plan!
Inspections can be an extremely nerve wracking experience making it difficult to demonstrate the high quality care service you provide.
To ensure your inspection visit goes to plan you need a well thought out strategy so as you are ready to highlight how your service goes above and beyond.
Packed with inspiration, ideas and useful prompts, our

NEW Learning Walk Plan

is perfect for boosting confidence and refreshing your knowledge so as you are ready to impress!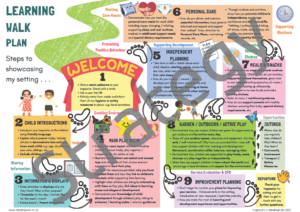 Be ready to demonstrate how you:
Welcome and Include all families 
Share Information and Work in Partnership
Support Development in an Enabling Environment
Meet Care Needs and Support Routines
Promote Healthy Choices and Positive Behaviour
Provide Opportunities to be Active and Involved in the Community
Self-Evaluate and Action Plan for Improvement
🦶🏻Walk the Walk
Note down things that you would like to draw attention to or chat about for each area of your service.

🗣Talk the Talk
Refresh one's memory of important terminology, legislation and guidance and be ready to chat about or answer questions on essential aspects of childcare including Safeguarding, Promoting Healthy Choices, and plans to improve your setting.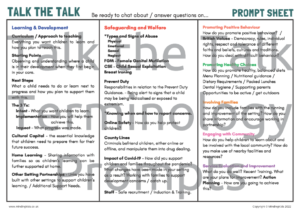 👍Know the Child
Complete summary sheets for each child to gather thoughts regarding their care needs, preferred learning styles and development progress. Be ready to demonstrate how well you know each child and how you plan to support their next steps.

and 📝Plan Your Play!
Take time to consider what resources and activities you will have available during your inspection. Why have you provided them and how will they support children's learning? Be ready to demonstrate how the resources and experiences you provide encourage and support development in all learning areas.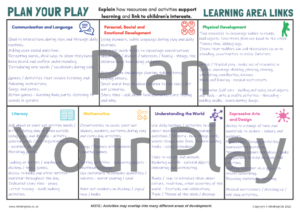 Also includes completed examples and an attractive cover sheet for YOUR completed Learning Walk Plan.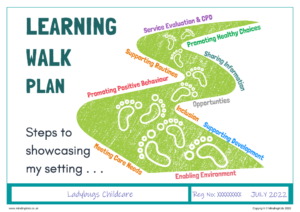 Available as an individual download OR become a MindingKids Member for UNLIMITED ACCESS to ALL our OUTSTANDING RESOURCES!