Carefully considered individual planning helps to ensure the best outcomes for children.
As a primary focus of inspections, providers must be able to demonstrate not only that they have a good knowledge of child development and where each child is in relation to relevant learning frameworks (EYFS / RTA / CfE / Foundation Phase) but also that they are carefully considering the best strategies and next steps to encourage progress.
We must take into account the individual needs, interests and development stage of each child in order to plan challenging and enjoyable experiences that will best support learning.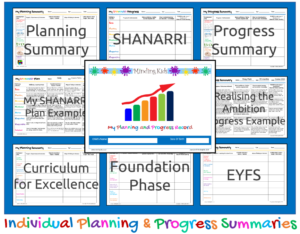 INTENT – What it is that you would like the child to learn or achieve?
IMPLEMENTATION – How you are going to help the child achieve this?
IMPACT – What progress was made?
Versions with the 3 'I's headings NOW INCLUDED!
AND… the INTERACTIONS, EXPERIENCES & SPACES on offer to best support progress.
Suitable for childminders and ALL Early Years settings – 3 versions available for providers based in Scotland, England or Wales!
Plan Next Steps & Record Progress on just one (double-sided) A4 sheet! 
⭐Use the Planning Summaries to:
List Targets / Learning Outcomes / Skills / Experience Focus
Brainstorm Activity Ideas, possibly linking to Topics or Themes to support learning
Consider ways of Linking to Child's Interests
Add further ideas to reach target and support Next Steps
⭐Use the Progress Summaries to:
Summarise Progress and Achievements
Consider things child needs more practise with or where they can build on confidence
Think of ways to embed learning and use new skills and knowledge
Add PLODS (Possible Lines of Development) / Ideas for future learning
Complete and share digitally using a computer, tablet or smart phone OR print out and complete by hand!
Available as an individual download OR become a MindingKids Member for UNLIMITED ACCESS to ALL our OUTSTANDING RESOURCES!