In these uncertain times, it is likely that we are all dealing with a number of challenging emotions.
😜😊😢😍😒😬😲
To help children learn about emotions and support them in understanding, sharing and managing how they feel…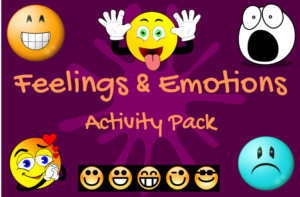 BURSTING FULL WITH ACTIVITIES, THIS PACK WILL KEEP CHILDREN BUSY AND HELP THEM LEARN ALL ABOUT FEELINGS, EMOTIONS, WHY WE EXPERIENCE THEM AND HOW WE CAN SHARE AND MANAGE THEM.
This pack also touches on Fixed and Growth Mindsets plus includes Activity Ideas Sheet and Activity Plans with ideas to cover ALL of the development areas!
Never be short of things to do to support learning and encourage next steps!
Includes all of the following:
Feelings & Emotions Activity Ideas Sheet
All About Feelings & Emotions Workbook Cover
All About Emotions Posters
Growth & Fixed Mindset Resources
All About Feelings & Emotions Worksheets
Emotion Faces
Picture Cards
Emotion Dice
Emotion Explorer Adventure Game
Emotion Explorer Certificate
Activity Plans & Evaluation Sheets plus examples!
Available to download on its own OR become a MindingKids Member for UNLIMITED ACCESS to ALL of our OUTSTANDING RESOURCES!