As childcare providers we are expected to provide stimulating experiences and support learning through play.
In addition to offering a wide range of activities that will benefit children's development, we must also assess and minimise any risks so as to keep children safe from harm.
Our new Risk / Benefit Posters will help you do exactly that! 
Excellent for displaying in your setting, sharing with children and families and as helpful reminders as to how children can benefit from various types of play.
PERFECT FOR REMINDING YOURSELF OF ALL THE THINGS CHILDREN ARE LEARNING ABOUT DURING PLAY AND HOW YOU CAN MINIMISE RISKS TO PROTECT CHILDREN FROM HARM.
Includes Posters for ALL of the following: 
Outdoor Play
Arts & Crafts
Loose Parts Play
Messy Play
Water Play
Sand Play
Display in your setting or add to your Risk Assessment and Learning Folders!
In addition to this new colourful resource, we have also updated our Risk Assessments Pack to include
Activity Risk / Benefit Assessment templates

!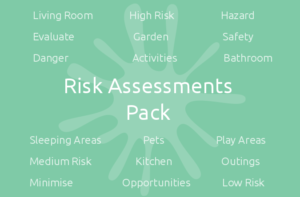 Templates are included for all of the following:
Outdoor / Active Play
Arts & Crafts 
Messy & Sensory Play 
Loose Parts Play
Paddling Pool
All MindingKids Resources are available to purchase separately…OR become a MindingKids Member for UNLIMITED ACCESS to ALL our OUTSTANDING RESOURCES!