These pocket cards have been designed principally for childcare providers and teachers in Scotland following the Curriculum For Excellence. They cover the outcomes children are expected to achieve at Early level (Pre-school & Primary 1 stage). 
MindingKids also offers Pocket Cards for:
Are you looking for a quick and easy way to refer to the Curriculum For Excellence outcomes during your busy day caring for children?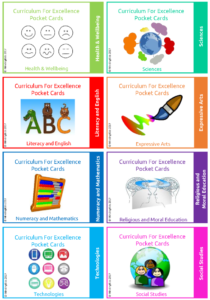 These Curriculum For Excellence Pocket Cards can provide a quick and handy reference tool to the individual outcomes from all eight learning areas of the curriculum. (Early Level Only included in this set). Excellent for quickly linking observations and assessments!
This pack  includes ALL of the following:
Cover Cards & Learning Area descriptions. MindingKids recommends that you print theses double sided to have the appropriate descriptions on the reverse of each cover card. 
Learning Outcome cards for each of the following learning areas.
-Expressive Arts
-Health and Wellbeing
-Literacy and English
-Numeracy and Mathematics
-Religious and Moral Education
-Sciences
-Social Studies
-Technologies
Examples of Pocket Cards shown below:
(Pack includes all 8 areas of learning.)
Simply print, laminate (if desired), trim then assemble together to have all the information you require condensed into handy pocket cards!
Cards can be bound together in any way of your choice. A simple effective method is to punch a hole in the corner then use a keyring loop to bind the cards together.
Further Details
Please note this pack includes outcomes for the Early level ONLY. (Pre-school & Primary 1 stage).
All files for the pocket cards are supplied as PDF Files and are not editable.
Please note this resource requires to be printed and self assembled. For best results MindingKids recommends that you laminate the pocket cards for improved durability. Laminating materials are not included.
Once trimmed each pocket card measures approximately 7cm x 10cm, with a maximum of 8 pocket cards per A4 sheet.
This item has been carefully designed to assist childcarers in meeting Scottish Care Inspectorate requirements.
You may also be interested in:
or…
Why not become a MindingKids member? PAY JUST £30 TODAY for UNLIMITED ACCESS to ALL our OUTSTANDING Resources!
You must log in and be a buyer of this download to submit a review.