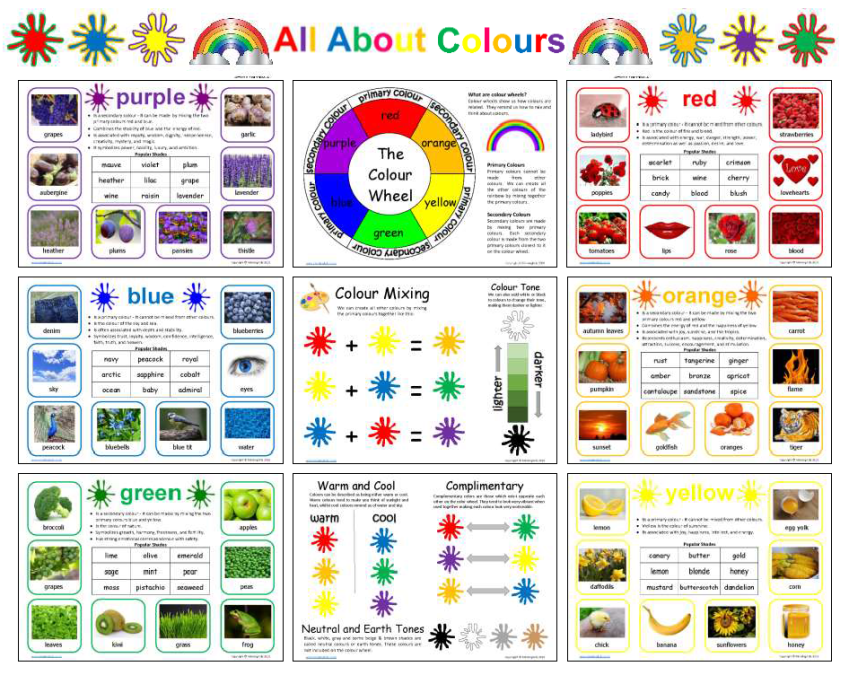 All About Colours Poster Display
Create interest with this bright display and help children to learn about and recognise colours.
Includes COLOUR Snap Cards and COLOUR Worksheet for more shape learning fun!
Also suitable for use in nurseries and large care groups!
This bright display will create interest in your setting and help children to learn about and recognise colours.
Use as individual posters or assemble together to create a fascinating display.
Includes posters for each of the primary and secondary colours, the colour wheel, colour mixing and colour tone, plus colour types detailing warm and cool colours, complimentary colours and neutral / earth tones.
Blank versions of the colour wheel, colour mixing and colour types posters are also included along with cut and stick sheets to enable you to create an interactive display and involve children by letting them stick the parts together in the correct way.
MindingKids recommends that sheets are laminated before cutting to enable the splats / shapes to be used again and again. Velcro coins / blue tac may be used to stick the shapes onto the blank posters. Please note that laminating / sticking materials are not supplied with this resource.
Also included in this pack:
Colour Worksheet

After looking at the posters, test children's knowledge of colours with this colour worksheet. Give them a colour to write about or let them choose their favourite colour and tell you what they know about it.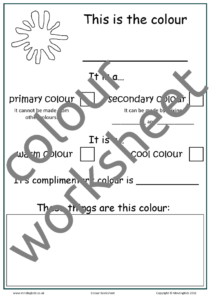 Colour Snap Cards

Great for playing games with younger children, these cards can be used to promote colour and word recognition. Play snap with the coloured splats and the objects or words, Play memory games by taking turns to turn over pairs of cards to see if they match or simply spread out all of the cards on the floor and see if children can group them correctly into their splat, word and object sets.

Again MindingKids recommends cards are laminated to improve durability.
Please see the Further Details tab above for file format and supply information.
Interested in MORE Outstanding Resources?…
Why not become a MindingKids member? PAY JUST £30 TODAY for UNLIMITED ACCESS to ALL our OUTSTANDING Resources!
You must log in and be a buyer of this download to submit a review.
All files are supplied as PDF Files and are not editable.
This resource is supplied as a ZIP FILE. Please see the FAQ page for further information.  
Each PDF sheet is A4 in size. Assembling as per the product image would result in a display approximately 70cm x 90cm. You may decide to assemble your display in an alternative arrangement to suit your setting and space available.