Climate Change Activity Pack
Help children learn all about the causes, effects and solutions of climate change and what we can do to look after our planet.
Includes Activity Ideas Sheet and Activity Plans with ideas to cover ALL of the development areas!
Help children learn all about the causes, effects and solutions of climate change and what we can do to look after our planet.
Through various worksheets, games and bundles of activity inspiration children can learn new vocabulary, gain a better understanding of our impact on the planet and find out more about what it means to be environmentally friendly.
Includes all of the following:
Climate Change Activity Ideas Sheet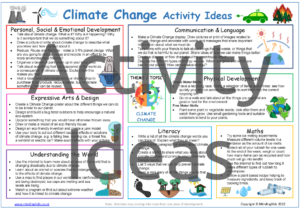 Gather loads of inspiration for your Climate Change theme!
Links activity ideas to each of the development areas.
All About Climate Change Fact Sheets
Learn all about what climate change is, the greenhouse effect, what the main causes of climate change are and what it means to be environmentally friendly.
Highlights common climate change words – perfect for expanding on vocabulary and literacy skills! Display in your setting or include in your All About Climate Change Workbook.
Climate Change Workbook Cover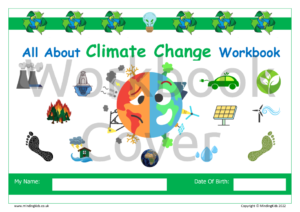 Assemble all the worksheets and activities from this pack and from your Climate Change theme together to create a fun learning workbook for each child.
All About Climate Change Worksheets
A variety of worksheets are provided that explore the causes, effects and solutions of climate change as well as enabling children to practice their comprehension, reading, writing and literacy skills. 
Think about things which are good or bad for the planet:
Count eco-friendly and non-eco-friendly items:
Learn Climate Change Vocabulary:
Search for Climate Change Words: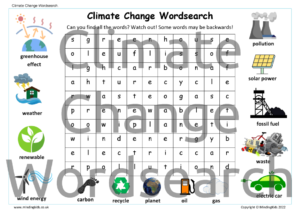 Learn about the Greenhouse Gases: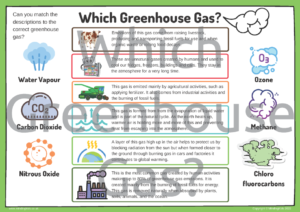 Understand the difference between Climate and Weather:
Learn about the effects of Climate Change Around the World:
Consider ways to make our homes more Eco-Friendly: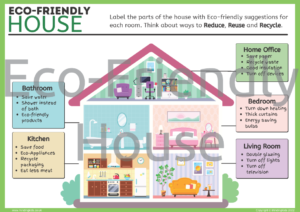 Investigate where energy can be saved in our own surroundings: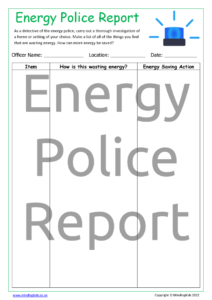 Practice colour recognition whilst learning about recycling:
Learn about how long various items take to decompose then match to the correct timings:
Summarise the Causes, Effects and Solutions of Climate Change: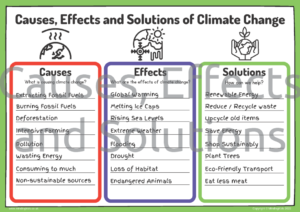 Picture and Definition Cards
The Picture and definition cards can be used in a variety of ways:
To help children learn about, understand, name and identify various climate change items
For word recognition and literacy skills
To test children's knowledge (for example matching the correct image with it's definition.)
Use two sets of cards to play snap or memory games (turning over one card at a time and remembering where it is in order to match it with it's pair).
Climate Change Board Game
This fun game will encourage children to learn about and communicate their knowledge of climate change, share their own experiences, help to develop social skills through playing together and taking turns and use their counting and number skills through rolling the dice and counting the number of spaces to move their counter.
The images above show a selection of game cards, more cards are included in the pack which can be selected from to suit ages and abilities.
Climate Change Champion Certificate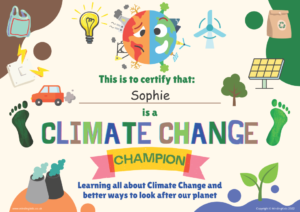 After all of these exciting activities, the children will have had lots of fun and at the same time learned lots about the causes, effects and solutions of climate change and how we can all play our part at looking after the planet. Reward them with a special certificate to take home!
PLUS…Example Focused Activity Plans & Evaluation Sheet
These activity plans can be used to set out activity ideas and consider how the task will allow you to support children in each of the development areas. Observe how children react and respond to the activity then record your observations using the evaluation sheet, considering what aspects of the activity went well and how you might expand or improve the activity in the future.
4 example ideas are included plus a blank activity plan and evaluation sheet!
Perfect for planning out activities for your group around your climate change theme!
Great for showing inspectors how you plan activities, observe children and plan next steps to support learning!
Please see the Further Details tab above for file format and supply information.
Interested in even MORE Outstanding Resources?…
Why not become a MindingKids member? PAY JUST £30 TODAY for UNLIMITED ACCESS to ALL our OUTSTANDING Resources!
You must log in and be a buyer of this download to submit a review.
The Activity Plan and Evaluation Sheets are provided as PDF Forms. Simply click in each area to add information or to tick the learning areas covered, or if you prefer, print out and complete by hand.
All other resources in this pack are provided as standard PDF files and are not editable.
For best results MindingKids recommends that you laminate the picture cards, fact sheets, and Climate Change Game and cards so as they can be used again and again. Laminating materials are not included.
The download version of this pack is supplied as a ZIP FILE. Please see the Help page for further information.