We have now updated our Care Plans & Consents Pack to include Parental Responsibility and Support Services Forms AND created versions of the pack suitable for NURSERIES and CARE CLUBS!
The summer months can often bring with it several changes in childcare settings. As we say farewell to children and families that are moving on, we must also prepare and be ready to fill spaces and welcome new faces! This time of the year can therefore be an excellent opportunity to review and update essential information and revamp your forms ready for any new starts.
Ensure you establish who has parental responsibility and legal contact for each child in your care – A legal requirement for childcare providers.
AND collect contact details and information regarding any additional support services in place, for example speech and language, additional support for learning, health, medical, or behavioural issues.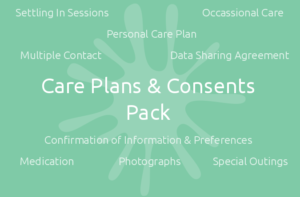 Includes ALL of the following:
Personal Care Plans (0 to 3 years & 3 years plus versions)
Parental Responsibility Form *NEW
Support Services Form *NEW
Confirmation of Information & Preferences Form
NON-Prescribed Medication Consent Form
PRESCRIBED Medication Consent Form
Photographs Permissions Form
Special Outing / Trip Permission Form
Dental Hygiene Support & Toothbrush Log
Settling In Sessions Consent Form
Occasional Care / Single Session Consent Form
Overnight Care Consent Form 
Multiple Contact Information Sharing Form
Data Sharing Agreement & Examples
Withdrawal of Consent Form
plus Information & User Guide
A comprehensive pack for use in ANY childcare setting – Use these Care Plans & Consents to collect essential information from children and families and request all of the necessary permissions.
Also included in our VALUE PACKS and as part of our MEMBERSHIP PACKAGES!