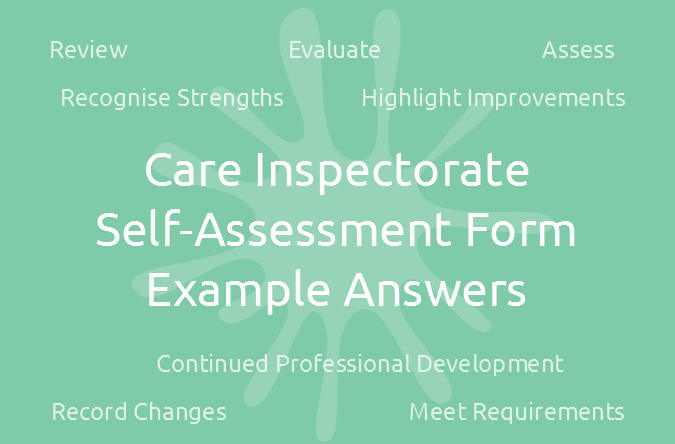 Care Inspectorate Self-Assessment Form – EXAMPLE Answers
Stuck on how to fill in your Self-Assessment? Use these EXAMPLE Answers to inspire you and give you an idea on the type of information you may wish to include in each section.
Finding your Self-Assessment Form a little overwhelming? Stuck on what to write?
Use these EXAMPLE Self-Assessment Form Answers to inspire you and give you an idea on the type of information you may wish to include in each section.
As a registered childminder in Scotland, you are required to complete a Self-Assessment Form each year.
The purpose of a Self-Assessment is to reflect on your service. It is important that you recognise your strengths and areas in which you perform well. You must also be able to highlight areas where improvements can be made so as you can plan and make changes to further enhance the quality of your service. The Care Inspectorate also require to see how you involve parents, families and any staff you employ in your self-assessment process.
The EXAMPLE Answers given in this document cover all the following topics:
Service User Participation
Identifying Needs / Personal Plans
Equal Opportunities & Diversity (Including multicultural resources & promoting equality awareness)

Promoting British Values *NEW*

Special Educational Needs & Disabilities
Routines & Activities
Relationships, Trust and Support
Meeting Nutritional Needs & Supporting Healthy Lifestyles (Including Allergen Information)
Developing Independence
Safeguarding & Child Protection
Safety Awareness
Promoting Positive Behaviour
Use, Storage & Administration Of Medication
Safe, Hygienic, Smoke Free, Clean and Tidy Environment
Best Use of Space / Environment
Homely Environment
Minimising the Spread of Infection
Sharing Information about Accidents & Incidents
Changes Since Last Inspection
Keeping Up to Date with Best Practice & Legislation
Identifying Training Needs and Service Development
Service Evaluation
Feedback, Concerns & Complaints
Plus the following topics for providers who work with an assistant or other staff:
Staff Involvement
Safe Recruitment Of Staff
Meeting Children's Needs/Monitoring Staff Practice/Supervision
Staff Development & Support
Please Note: The Self-Assessment Answers given in this document are EXAMPLES and should be used only as guidance to help you with ideas for each section. Please do not copy them! You will need to create your own answers which are unique to your setting and the users of your service.
Further Details
This document is supplied as a PDF file and is not editable.
This item has been carefully designed to assist childcarers in meeting Scottish Care Inspectorate requirements! Whilst the answers have been created from a childminding perspective, much of the information may also be of interest to nurseries and other early years settings.
NOTE: You may also be interested in the Self-Reflection Pack – Regularly assess your strengths and weaknesses. Perfect for referring back to when completing your Self Evaluation or to show as evidence on inspection.
This item is also included in the following VALUE PACK:
Why not become a MindingKids member? From just £5 per month you can get unlimited access to ALL of MindingKids downloads!
Reviews
You must log in and be a buyer of this download to submit a review.