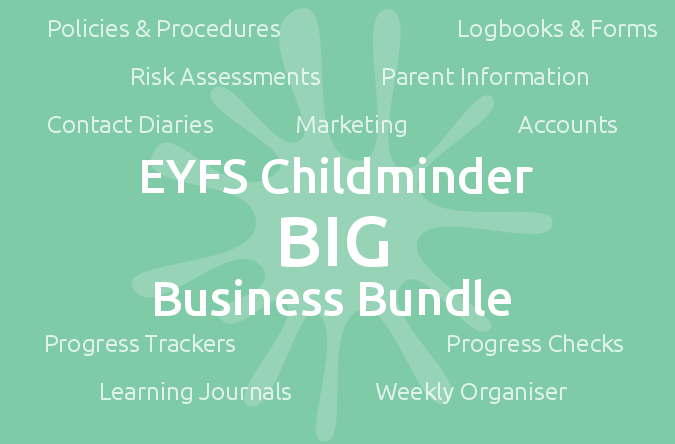 EYFS Childminder BIG Business Bundle
This AMAZING Value Pack combines the most popular of MindingKids resources, providing you with everything you need to be OUTSTANDING! WOW parents, IMPRESS inspectors and meet EYFS Requirements!
This AMAZING Value Pack combines the most popular of MindingKids resources, providing you with everything you need to be OUTSTANDING!
Whether you are just starting out or are already an experienced childcare provider, this pack will help you get organised, impress parents and inspectors and ensure you have all the necessary paperwork in order to provide a high quality, professional childcare service.
WOW parents, IMPRESS inspectors and meet EYFS Requirements!
This pack contains
all
of the following MindingKids products:
Everything
from the
Childminding Paperwork Start-Up Pack
:
Everything
from the
EYFS Learning & Development Pack
:
Learning Journals – Create comprehensive learning journals for every child in your care. (EYFS version is included in this pack)
Early Years Outcomes EYFS Progress Tracker – Regularly track and monitor the developmental progress of each child. (Based on Early Years Outcomes and the Early Learning Goals.)
EYFS (2 Year) Progress Check – A requirement of the EYFS, provide parents with a short written summary of their child's development progress between the ages of 24 and 36 months.
Progress Report Sheets – Quickly summarise how a child is progressing with in each development area, share their 'wow' moments and achievements.
Activity Star Chart – quickly record and share activities, events and other things children are doing under each area of development.
Learning & Development (Profile) Summary – Complete a comprehensive learning and development report for each child. An excellent communication document to share with parents and professionals or to pass on when a child moves on to school or a new setting.
*NEW* Characteristics Of Effective Learning Tracker – Keep a comprehensive record of how each child is learning and link your observations to the Characteristics Of Effective Learning as outlined in the Development Matters guidance.
Plus
Childcare Contact Diaries – Record each child's daily routine and activities and share information with parents.
Accounts Pack – Easily work out your weekly, monthly and annual income and expenses using simple logsheets.
Weekly Organiser Sheets – Record all the essential information about your childminding week on just one (double sided) A4 sheet! Keep everything you need to know at hand and cut down on paperwork!
Click on each link for full details of each individual pack!
This item has been carefully designed to assist childminders in meeting

English Ofsted

requirements!
Please see the Further Details tab above for file format and supply information.
Interested in getting MORE for your money?…
Why not become a MindingKids member? PAY JUST £30 TODAY for UNLIMITED ACCESS to ALL our OUTSTANDING Resources!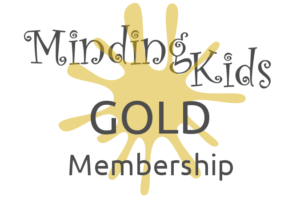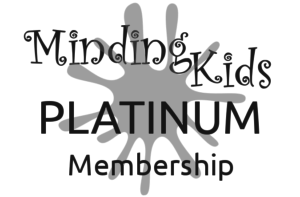 Reviews
I really need to say HUGE thank you for this pack! It is PRICELESS!!! It will save me weeks or even months of work . I am only on a second folder and I nearly cry with tears of joy and relief – it is enormous amount of fantastic documents and forms I wouldn't think of some of them, probably…THANK YOU THANK YOU THANK YOU.
I have been searching for months and months for any help. There are some very expensive options out there and I didn't want to get them as I only start my business…I truly didn't expect to get ALL THAT for just £25. Mind-blowing!
I will surely get your App once I am up-and-running and subscribe to get more info.
You must log in and be a buyer of this download to submit a review.
The Policies & Procedures Pack, Risk Assessments Pack and Parent Information and Marketing Pack are supplied as Microsoft Word documents. Simply edit as you require to suit your business!
The Accounts Pack is supplied as a combination of Excel Worksheets and PDF Forms.
All other documents are supplied as PDF Forms. Simply save to your computer or tablet then click in each area to enter information, or print out and fill in by hand.
Please refer to individual pack descriptions for full details.
The download version of this pack contains ZIP FILES. Please see the Help page for further information.