Create a comprehensive Activity Journal of all activities you do with children and reflect on what was learned and what could be improved.
An excellent resource to show off the wide range of experiences you provide and to refer back to for future activity inspiration!
Link to the development areas as evidence of how you are supporting children's learning and demonstrate to parents and inspectors how you continually reflect on your practice to make improvements.
Also suitable for NURSERY settings!
This pack contains 

all

of the following:
Front Cover
Activity Record Sheets
EYFS, Scottish Curriculum & SHANARRI versions included!
Record details about activities you have done with children to refer back to, share with parents or provide as evidence to inspectors.
Includes:
Activity Title
Date
Activity Description
Resources Required
Children taking part
Whether the activity was planned or spontaneous
Links with topics / children's interests
Best bits / Worst bits about the activity
What was learned
Areas of development covered
Learning within the development areas
Ideas to improve or extend the activity
Space for photos / further comments / ideas
PLUS completed examples!
Activity Log Sheets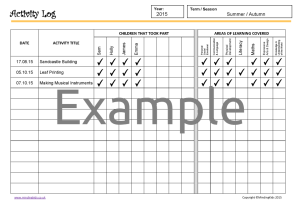 EYFS, Scottish Curriculum & SHANARRI versions included!
Keep a record of all activities undertaken in a term or season on one sheet of paper that can be quickly referred back to. At a glance you will see:
What activities were undertaken on what dates
Who took part in which activities
Which areas of development were covered
Perfect to look back on and help with planning the following year!
Further Details
All documents in this pack are supplied as PDF Forms. Simply click in each area to enter information or print out and fill in by hand.
The download version of this pack is supplied as a ZIP FILE. Please see the FAQ page for further information.  
This item has been carefully designed to assist childcarers in meeting both English Ofsted and Scottish Care Inspectorate requirements!
NOTE: You may also be interested in the Activity Planning Pack – A comprehensive pack to brainstorm ideas and plan activities around a topic or theme!
This item is also included in the following VALUE PACK:
Reviews
You must log in and be a buyer of this download to submit a review.