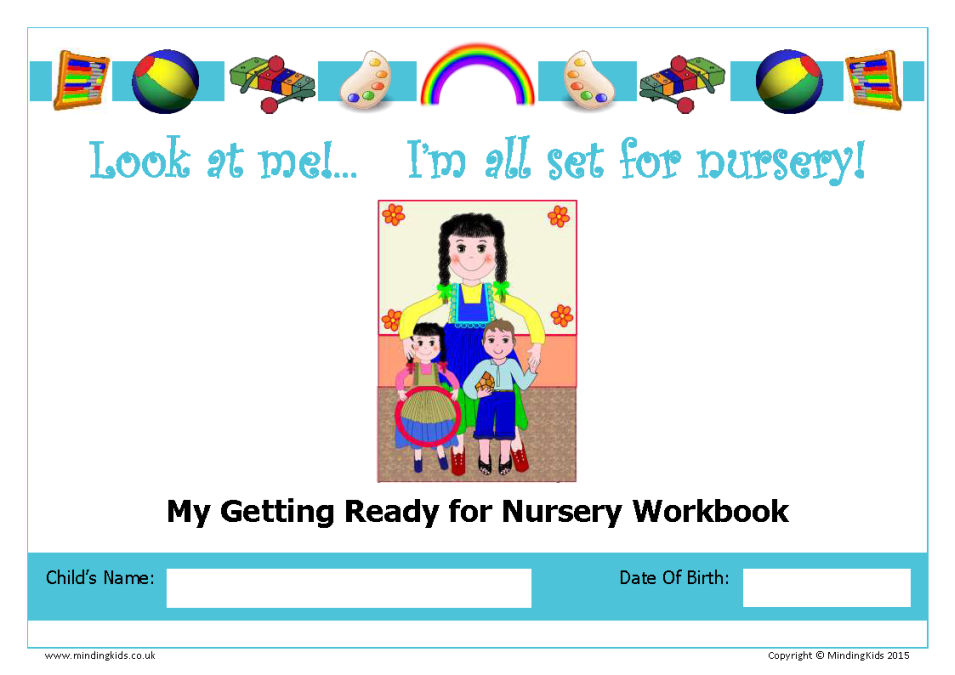 Ready for Nursery Workbook
Do you care for children who are due to start nursery or pre-school? Help children to prepare with this fun workbook. Packed full of information, activities and ideas, it is an excellent resource for supporting transition!
This fun workbook is packed full of information, activities and ideas to help prepare children for nursery or pre-school.
An excellent resource for parents and carers to support transition and work together with children. 
Use as individual worksheets or print the full set to create a colourful workbook for children to complete. Something to keep them busy in the weeks running up to their first session!
This pack includes all of the following worksheets:
Front Cover
Help your child prepare for nursery or pre-school – Parent & Carer Tips.
Hello My name is… – Learning to introduce and talk about myself.
More About Me – Learning to describe myself.
Feelings and Emotions – Identifying and expressing feelings and emotions.
My New Nursery – Getting ready for nursery.
Travelling to and from nursery – Routine and safety awareness.
Keeping Busy at nursery – Activities & Things to do.
Learning to write – pencil control.
Learning letters and linking sounds (5 worksheets)
Counting and Numbers
Shapes – Identifying shapes in everyday objects.
Nursery Rules – Learning to be responsible
My Visit to Nursery – Becoming familiar with my new surroundings.
PLUS a certificate for completing the worksheets and being All Set for Nursery!
Further Details
The worksheets are supplied as a combination of PDF and PDF Form files. It is possible, for example, to add children's names to the front cover and certificate by clicking and typing into each area. (Select 'highlight existing fields' in your pdf viewer to see where to click). Alternatively, you can print out and complete by hand.
The download version of this pack is supplied as a ZIP FILE. Please see the FAQ page for further information.  
This item has been carefully designed to assist childcarers in meeting both English Ofsted and Scottish Care Inspectorate requirements!
Reviews
You must log in and be a buyer of this download to submit a review.