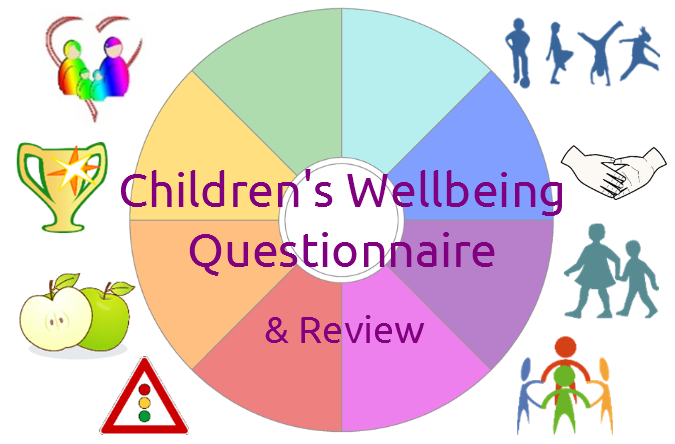 Children's Wellbeing Questionnaire & Review
Gather views and opinions from children about their care and wellbeing. Work together with parents and complete the Wellbeing Review to plan improvements and next steps. (Supports GIRFEC / SHANARRI)
Also suitable for use in NURSERIES & CARE CLUBS!
**Now includes edited versions for Nurseries and Care Clubs!**
Are you confident that you are 'Getting It Right For Every Child'?
How do you show your inspector that you are considering the Wellbeing indicators for each and every child within your service?
This Wellbeing Questionnaire will help you to gather views and opinions from children and understand better how they feel about various aspects of their care. Work together with parents to identify areas where improvements can be made then complete the Wellbeing Review to plan the next steps to enhance their care and wellbeing.
Completed Example Included.
Or…
…use the Wellbeing Review on it's own to regularly assess the wellbeing of children in your care. Whilst the questionnaire is aimed at children aged 3 years and above, the Wellbeing Review can be completed for children of all ages.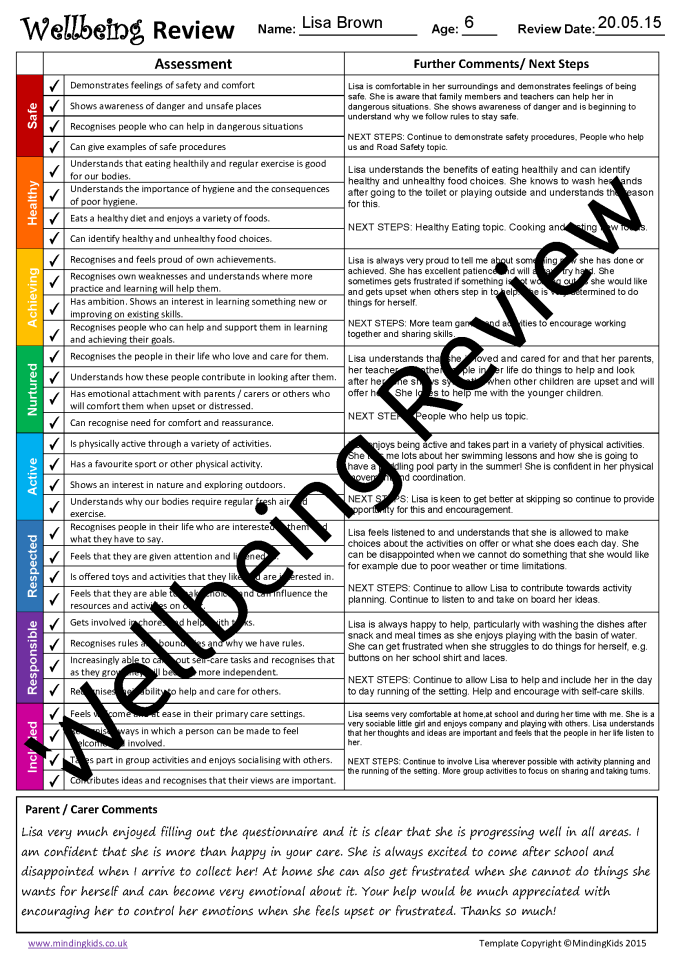 Completed Examples Included for 12 months, 2½ years and 6 years.
Note: This resource has been designed primarily for childcare providers registered with the Scottish Care Inspectorate but is a useful resource for providers EVERYWHERE to involve children and families.  The 'Note to Parents' section can be edited as you require to suit your own setting.
Complete every 6  to 12 months as another way to support the GIRFEC approach and involve children and parents with the ongoing improvement of your service.
Further Details
Versions suitable for use in a nursery or care club are now included in this pack!
The Wellbeing Questionnaire and Review are supplied as PDF Forms. Simply save to your computer then click in each area to enter information, or print out and fill in by hand.
The 'Note to Parents' and childrens introduction have been entered as part of the PDF Form and can therefore be edited as required.
The download version of this pack is supplied as a ZIP FILE. Please see the FAQ page for further information.  
This item has been carefully designed to assist childcarers in meeting both English Ofsted and Scottish Care Inspectorate requirements!
NOTE: This item is also included in the following VALUE PACK:
OR become a MindingKids Member for UNLIMITED access to ALL Downloads!
Reviews
You must log in and be a buyer of this download to submit a review.