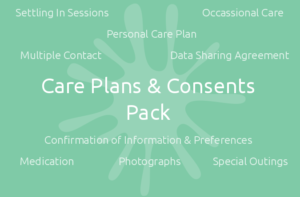 As part of our plans to update and improve some of our existing resources and as part of our work to assist our members and customers with GDPR compliance, we are excited to introduce this new Care Plans & Consents Pack! Bursting with new and refreshed forms, this pack will allow you to collect essential information from children and families and request all of the necessary permissions using professional care plans and consent forms.
Perfect for collecting important details at the beginning of a new childcare arrangement or for refreshing your existing paperwork and ensuring you have obtained and shared essential information with parents.
All of the items in this pack have been designed to assist with General Data Protection Regulation (GDPR) compliance.
For further assistance with GDPR, please refer to our FREE Guide for Childminders and Childcare Providers and to our GDPR ToolKit – Coming Soon!
This pack contains ALL of the following:
Personal Care Plans (0 to 3 years & 3 years plus versions)
Confirmation of Information & Preferences Form
NON-Prescribed Medication Consent Form
PRESCRIBED Medication Consent Form
Photographs Permissions Form
Special Outing / Trip Permission Form
Dental Hygiene Support & Toothbrush Log
Settling In Sessions Consent Form
Occasional Care / Single Session Consent Form
Multiple Contact Information Sharing Form
Data Sharing Agreement & Examples
plus Information & User Guide
MindingKids Members log in to your account to download!
NOTE: This item is also included in the following VALUE PACKS: