Perfect for Spring another exciting activity pack from Kids Club English has been added to our collection!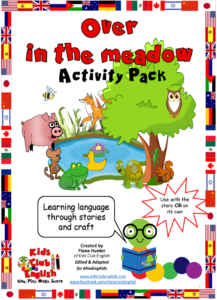 Designed to complement the story Over In The Meadow this pack can be used with or without the story to support children's learning in a variety of ways to:
 learn about animals and their habitats, actions and noises
support colour recognition
practise counting and numbers
introduce sounds, letters and rhymes
build on literacy and vocabulary skills  
encourage listening and following instructions
develop fine motor and social skills
Contains 228 pages of information and resource templates PLUS detailed instructions, activity suggestions and descriptions for each section!
Please note that the templates provided require to be printed and self assembled.