By popular demand the MindingKids Multicultural Calendar is back!
Download straight away or pre-order your professionally printed copy of the 2017 calendar NOW for pre-Christmas Delivery!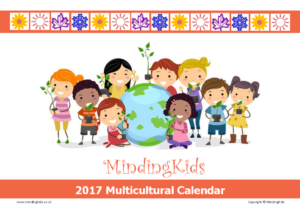 Covers 71 special dates & festivals!
New special days added for 2017!
Help children learn about different festivals and cultures from all over the world!
Each important date includes an image and description of the special day or festival … PLUS some simple activity ideas!
Excellent for enhancing children's learning and keeping them busy!
Perfect for displaying in your setting, keeping you organised, and planning ahead.
And fantastic for Mums, Dads, Grandparents, Aunties and Uncles too… an excellent Christmas gift for families and friends!
Members log into your account to download as part of your membership package or contact us to receive your unique discount code towards your professionally printed calendar!